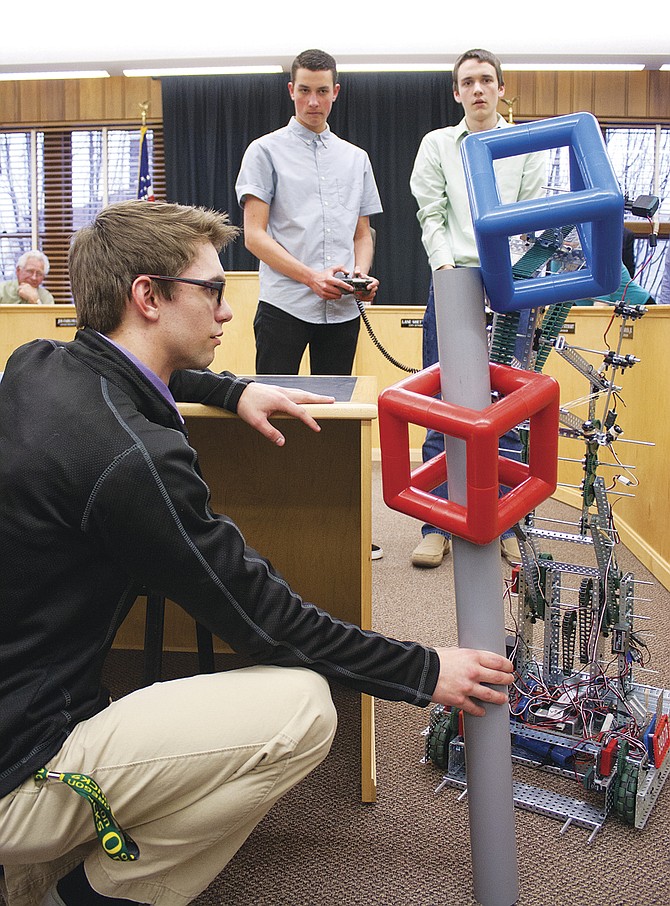 DALLAS — At the beginning of the year, the members of Team ramRod, a Dallas High School robotics team, told coach Lee Jones they were going to qualify for the world championship.
"I chuckled a little bit," Jones recalls of his reaction.
After all, that should be the goal of every team at the start of the season.
This team, seniors Ben Rounds, Jake Shryer and Jacob Reimer, was serious about those lofty expectations, even though this is their first robotics season.
"We had a steep learning curve," Shryer said. "We had to learn as much as we could from other teams, copy what they were doing."
Perhaps it's an understatement to say they are quick learners, because now they are the first team from Dallas High to qualify for the VEX World Championship. This year the competition is held in Louisville, Ky., starting on April 15.
Early in the season, they didn't know how challenging their goal was, but as the year progressed, so did the team.
Jones said it isn't just beginners' luck with these guys. He said many teams begin building their robot in September for the first competition in December and don't make many changes after that. Team ramRod wasn't satisfied with version 1.0 of its robot.
"They are always improving, building, evaluating what could be better," he said.
Another of the team's strengths is collaborating with other teams during competition.
Teams have to form alliances during tournaments, so evaluating other team's strengths isn't just good competitive strategy, it's the key to success.
"You have to have a good partner to do well," Reimer said.
Team ramRod chose its collaborators well in its last two tournaments, a qualifying competition held at Dallas High School, followed by the VEX Robotics State Championship, where it was part of the winning alliance.
Reimer described state competition as "intense."
"It was a make or break moment for us," Reimer said. "It was our last competition — nerve-wrecking, but fun."
The team expects worlds to be just as stressful as state, if not more so.
"There's always something happening," Reimer said. "If we are not competing, we are working on our robot. If we are not doing that, we are scouting other teams."
As far as competition is concerned, the team isn't sure what to expect. The best teams and robots from throughout the world will be there.
The trio, and Jones, wants to be sure to take a break from competition to check out the different designs and strategies.
"I'm really excited to see robots from everywhere," Shryer said. "I've never done anything like this."
Team ramRod has plenty of support on its mission, receiving donations to pay for the trip to Kentucky, most notably the DHS leadership class, which donated $3,000.
Reimer said he hopes the team's success will help DHS' robotics program in the future. Jones said the program relies on donations and sponsorships to buy robotic kits and practice fields, which change every year with the season's theme.
"They don't get a lot of money," Reimer said. "We hope it draws a little more attention to the program."
Shryer and Rounds said robotics gave them a glimpse into their future. Shryer, who wants to be an engineer, now has experience in the field and knows he likes it.
Rounds, the team's programmer, changed his mind about his college major after one year in robotics. Now he's looking to get a degree in computer science.
"I want to continue doing this," Rounds said. "I enjoy it."
They encourage anyone interested in science or engineering to give competitive robotics a shot.
"I think it's a great hobby to have," Shryer said. "If this is what you are interested in, it's a good opportunity."