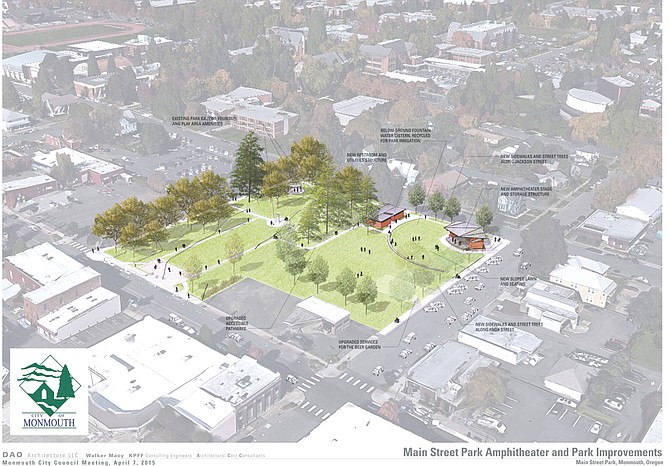 MONMOUTH — By Fourth of July 2016, Monmouth's Main Street Park could have its amphitheater ready for summer concerts, if the council can find a way to pay for it soon.
Parks system development charges (SDCs) can be used for this project, as well as money from the urban renewal district (URD), said Mark Fancey, city community development director.
Fancey said during the April 7 city council work session that if the council decided to pursue grant funding for the project, it could take until 2017 or longer to complete.
The amphitheater project entails several structures including new bathrooms. Storage would allow the city to stop using the old fire station as a storage facility.
The project also would include landscaping and a large storage tank underneath the restroom where water from the park's splash fountain would be stored to irrigate the park.
In total, the amphitheater project's estimated cost is $1.22 million, the final of three large parks projects listed on the Monmouth parks master plan. The other two projects now completed are Madrona Park and the splash fountain in Main Street Park.
The council decided to use $422,000 from the parks SDC fund, as well as some money from the urban renewal district's capital reserve fund, and explore options for financing from the URD.
Councilors debated the value of a five-year loan from the URD vs. a 10-year one.
A 10-year loan would have lower annual payments, but with just 10 years left on the urban renewal district, some councilors thought it would tie their hands when it came to offering incentives to downtown businesses or future developers.
Fancey and City Manager Scott McClure said they would bring back more information on both a five-year loan and a 10-year loan before councilors made a final decision on funding the amphitheater project.