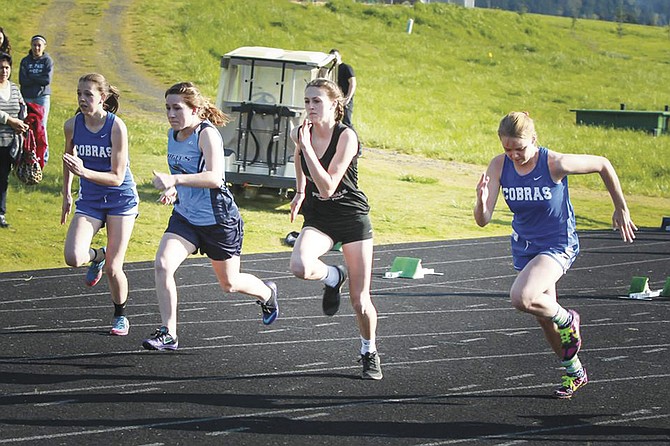 PERRYDALE — Perrydale junior Taylor Price loves softball. As a sophomore, she started for the Pirates. Many of her friends were her teammates.
This spring, however, Price made an unexpected choice — she joined the track and field team.
"I wanted to try something new," Price said. "In softball, I always felt like I was the one messing up. I was a starter, but I had that feeling that if I messed up, everyone was going to hate me."
Price, who had never competed in track and field, didn't come in with the highest of goals.
She has been defying expectations ever since.
"I thought I was going to suck," Price said. "Our first meet (Jim Barks/Grizzly Bear Open) had all these amazing athletes from these big schools and here comes our tiny school on this mini bus. There were all these girls jumping in the high jump at seven feet, and I was hardly making four feet at the time."
Yet, she had already made a big impression on Pirates coach Brian Evans.
"When I started her out on the high jump, and she easily cleared the girls starting height in practice with raw form, I knew we had a natural athlete," Evans said.
Price added the 300-meter hurdles on April 2 after Evans signed her up to give the event a try.
"I wasn't fully committed to it until the day before when coach told me I was still doing it," Price said. "I had a friend help show me how to do it."
At the Tri-River Preview meet, in her first 300-hurdles race ever, Price finished first in 53.27 seconds.
Since then, Price, who also runs the 100 and tried out the 200, set personal records in the 300 hurdles (51.94) and high jump (4 feet, 6 inches) at Willamina on Thursday. Price's 300 hurdles time is the sixth fastest in Class 2A.
And Price is accomplishing all this while competing on Perrydale's equestrian team, splitting her time between track, school and riding.
"I've surprised myself," Price said. "I do miss softball a lot, but I'm excelling at track more than I ever thought I would."
Now, the junior who thought she wouldn't compete at all, is re-evaluating her goals toward placing at districts.
Price isn't alone in chasing state aspirations this spring.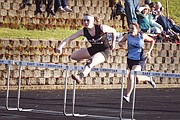 Senior Alysia Vergin finished third in both the 100 and 100 hurdles at the 1A Special District 1 district meet in 2014, one place from qualifying for state.
"I was only a second or two off from going to state last year," Vergin said. "This year, I'm trying really hard to keep going and improving so I'll have a spot in state."
Vergin, who has competed in track throughout her high school career, set a personal record as the Pirates' lone entry in the Tournament of Champions in the 100 hurdles, finishing in 17.91 seconds.
"(Alysia) is strong, tough, athletic and determined," Evans said. "She and Taylor are heavily involved in OHSET, and I think her fearlessness in the hurdles is partially due to the amount of time she spends racing on her horses. She is fast and is willing to work on the little things that can get her over the hurdles faster."
And, although she's competing in the triple jump for the first time, she's eyeing a state berth in the hurdles.
"I think it's just the adrenaline I get from doing it," Vergin said. "Having to go over something that you could potentially fall over and being able to race against the clock. It's nice not having people judging you. You're running for the best time."
While Price and Vergin may have taken different paths to the 2015 track and field season, they share similar goals going forward — qualify for state.
"My expectations are for both of them to make it to state in their best events," Evans said. "For Taylor, that is the 300 hurdles and Alysia in the 100 hurdles. It will take hard work, but I have confidence in both of them."