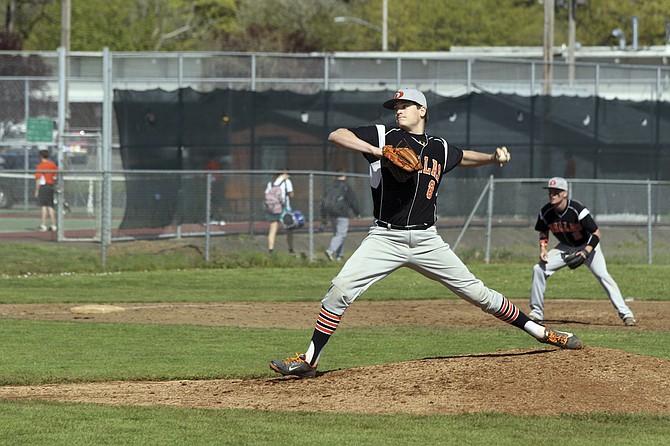 DALLAS — After a three-game sweep of Woodburn, Dallas' baseball team appears ready to face a critical stretch of its season.
The Dragons opened the series with a 19-0 win on April 7 before winning 9-4 and 7-0 on Thursday. Pitcher Tucker Weaver gave up two hits while re-cording 13 strikeouts in the first game.
"Tucker (Weaver) was dominating," Dallas coach Scot McDonald said. "As a team we hit the ball well and controlled the game from the get go."
Hatley struck out 12 batters in the first game of the doubleheader on Thursday. Freshman pitcher Jaret Stewart earned the victory in the final game of the series.

Hatley, one of the Dragons' top starters, had nine straight strikeouts to open his start against the Bulldogs before giving up two walks in the fourth inning.
"I wasn't upset that I walked the first batter, I was upset that I let him steal on the very next pitch," Hatley said.
But, much like he has all season, Hatley took a moment to gather himself before returning to close out the inning.
"I just needed to step off the mound, listen to what coach (McDonald) had to stay," Hatley said. "I just needed to take a step back and get back to what I was doing."
The Dragons' pitching staff will likely need to be at its best going forward.
Dallas entered the week at 5-1 in Mid-Willamette Conference play, one game behind Central and Corvallis and two games ahead of Crescent Valley and Silverton.
The Dragons opened a three-game series against the Raiders Tuesday after press time.
Dallas will also face the Silver Foxes, Spartans and Panthers in a stretch that will go a long way in deciding the league's champion between the MWC's top five squads.
"Our coaches went to a game between Crescent Valley and Corvallis. We asked about what they saw but they wanted to leave it until after the series," Hatley said. "We never talk about things like who are we facing after this team or anything like that."
They may not be looking ahead, but the Dragons know the next four series are critical and that they are ready to try and clinch a regular season conference championship.
"I know they all are going to be good teams," Hatley said. "We will see better pitching than we've seen for a while. We just need to go out there, throw strikes and do what we can to get the win."