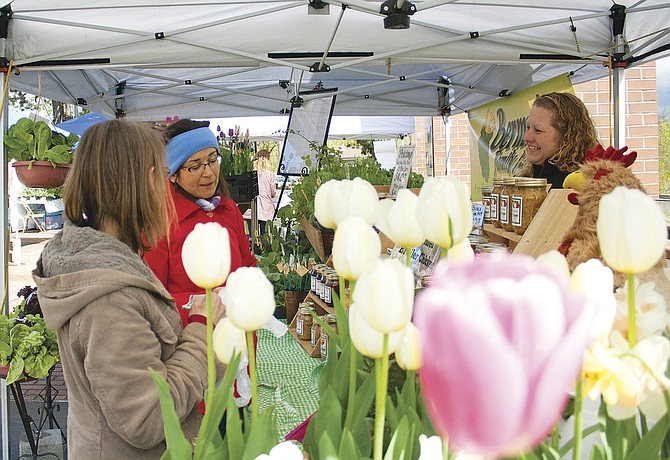 Annual pow wow at WOU on Saturday
Western Oregon University's Multicultural Student Union will host the 22nd annual Pow Wow from noon to midnight on Saturday in the Pacific Room, Werner University Center.
The pow wow includes vendors, dancers, drummers and fry bread, as well as a dance competition and dinner. The competition is open to tiny tots, teens, men and women in categories of fancy dancing, traditional dancing, grass dancing and jingle dancing.
For more information: www.edu/msu, or 503-838-8403.
Gentle House to host bridal show
Historic Gentle House event center, garden and museum will host its third annual bridal show from 1 to 5 p.m. on Sunday.
The event is free; and the first 10 brides will receive $100 off a Gentle House booking. Wedding professionals will be on hand to answer questions.
Gentle House is on the campus of Western Oregon University, 855 N. Monmouth Ave., in Monmouth.
River Gallery to celebrate artists
The River Gallery in Independence will host a celebration of the gallery's associate artists from 5 to 8 p.m. on Saturday.
During the month of April, exhibits will be on display from 14 associate artists, along with Christine Hannegan, who is known for bird portraits.
For more information: www.rivergalleryart.com.
4-H class to create art from trash
Who says that old lamp is destined for the landfill? Come to Polk County 4-H's "Step up to 4-H" class to learn to make a garden fountain out of a repurposed lamp, planter, pump and vinyl record.
The class is open to youths aged 9 and older from 9:30 a.m. to 12:30 p.m. on Saturday.
The workshop will be at the Extension Office, 289 E. Ellendale Ave., Suite 301 in Dallas. Preregistration is required by Wednesday (today).
Cost is $20 for 4-H members; $25 for nonmembers. All materials are provided.
To register: 503-623-8395.
Cancer survivor dinner set May 2
American Cancer Society Relay for Life second annual Survivor Dinner and Celebration is May 2. The celebration is hosted by Eola Hills Wine Cellars and sponsored by Relay for Life of Polk County and Team Perrydale.
Every survivor and guest, will be guests of honor at this dinner and will celebrate with an evening of food, fun and festivities. The event begins at 5:30 p.m. with a meet-and-mingle time with dinner and entertainment starting at 6:15 p.m.
For planning purposes, please RSVP your name and the name of one guest by April 23 to Vicki Bailey at 503-623-5241 or vickibaile@aol.com.
There will also be an opportunity to register for Relay for Life, which is May 30-31 at LaCreole Middle School in Dallas, www.relayforlife.org/polkcountyor.
Eola Hills Wine Cellars is located at 501 S. Pacific Highway 99W, Rickreall.
Youth learn to preserve fruits
Youths aged 9 and older may join Polk County 4-H and learn about preserving fruits using a water bath canner.
The "Step up to 4-H" class is from 9 a.m. to 2 p.m. on April 25. Preregistration is required by April 22.
Participants will learn to can fruit, fruit pie filling, jam preserves and ice cream topping. Tastings will be available. Fruit and jars are being accepted for donation.
Cost is $20 for 4-H members; $25 for nonmembers.
To register: 503-623-8395.
Dallas Mat Club begins fundraiser
The Dallas Mat Club is selling Al's Nursery hanging flower baskets for its annual fundraiser.
Through the end of April, 10-inch baskets will be sold for $20 and 12-inch baskets for $30. All proceeds support youth and middle school wrestling programs in Dallas.
Baskets will be delivered in time for Mother's Day.
For more information: kerriann@live.com or contact a Dallas Mat Club or a LaCreole Middle School wrestler.
Dinner and auction benefits Polk RFL
American Cancer Society Polk County Relay for Life spaghetti feed and auction is Friday. The event begins at 5 p.m. with the meal, silent auction and live music followed at 7 p.m. by the "outcry auction."
The event, organized by Polk County Relay for Life teams, has all proceeds going to the American Cancer Society. Suggested donation for each dinner is $5, with a maximum of $20 for immediate family. The event will be at Christ's Church Methodist and Presbyterian United at 412 W. Clay St., in Monmouth.
Tickets and information are available by contacting: Christ's Church office 503-838-1724; Denvy Saxowsky at 541-223-4562, saxowsky@gmail.com; Kay Graven at 503-623-5495, gkr@q.com; or Tami Bookey-Kuhlmann at 2015relayforlifepc@gmail.com.
Swim celebrates cancer survivors
American Cancer Society Polk County Relay for Life is hosting a swim event and "Celebration" sponsored by the Dallas Aquatic Center on Sunday from 5:30 to 7:30 p.m. The event is free for all caregivers, cancer survivors, and those currently in treatment and their families.
The afternoon happenings include swimming, snacks, bingo and prizes.
For more information contact: Tammy or Jennifer at 2015relayforlifepc @gmail.com.
Explore spring through open house
The Polk County Historical Society will host the Cherry Blossom Drive Open House from 10 a.m. to 3 p.m. on Saturday at the Harrison and Emily Brunk farmstead.
The Auto Club of Salem promotes this opportunity as a chance to show their cars, explore spring around the area and play a poker hand at each stop.
Brunk House has one of its open house events to show this 1861 classic revival home with much of the original furniture.
Master Gardeners will be on hand to demonstrate lasagna gardening and to answer questions. The house is at 5705 Salem-Dallas Highway (22W).
For more information: Jo Ann King, 503-838-6603.
Tea for two at Trinity Lutheran
Children aged 3 to fifth grade may help prepare a tea party for their families from 2 to 5 p.m. on April 25.
The tea party will be held at 4 p.m. at Trinity Lutheran Church, 320 Fir Villa Road, Dallas.
Children will prepare the tea party by making crafts, learning a song and decorating cupcakes. Children must be potty trained. Space is limited.
To register and for more information: 503-623-2233.
Music, food and wine on Friday
The Martin Gerschwitz Show will perform at Redgate Vineyard from 6 to 9 p.m. on Friday.
Lead vocalist and keyboard player for Iron Butterfly will play and tell stories of his world tours with Eric Burdon and the Animals, Vanilla Fudge, Meatloaf and Iron Butterfly.
Food will be available from the food cart of Michael Sullivan, chef de cuisine. All food designed to pair with Redgate wines.
Admission is $10 cover charge for this event. For more information: redgatevineyard.com.
Calvary Chapel to present 'The Truth Project' series
Calvary Chapel, 628 Jefferson St., Dallas will present The Truth Project by Focus on the Family starting Sunday and running through July 5.
The Truth Project is a 12-week series led by Don and Charlotte Coper with presentations on Sundays 6 to 7:30 p.m.
The series is designed to "help you understand and share your faith as never before."
For more information: 503 689 4945.