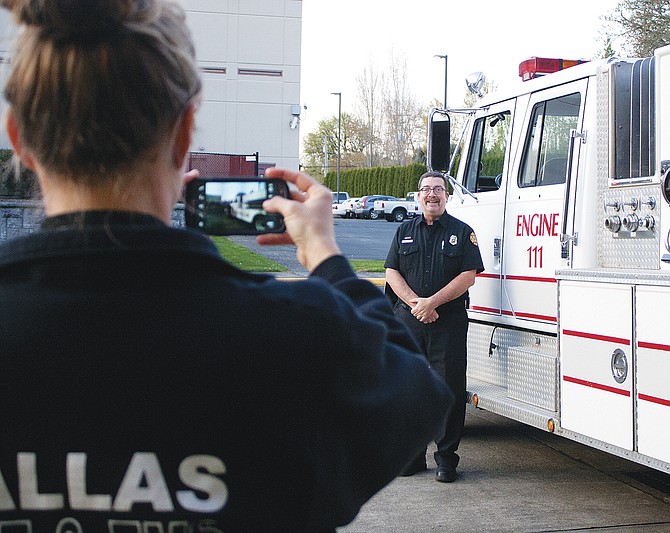 WOU Relay For Life will be Saturday
Western Oregon University will hold a student Relay For Life from 6 p.m. Saturday through 8 a.m. Sunday at the Old Physical Education Building.
Relay For Life is an event to celebrate, remember and fundraise for those who have cancer or who have died from the disease.
This shortened version of the 24-hour event includes the luminaria ceremony to remember people who have died from cancer, honor people who have fought cancer and support those who are still fighting cancer.
Lights are placed inside bags that are personalized and are placed around the Relay track as a remembrance to those who have been affected by cancer.
For more information: Student Activities Board, 503-838-8558.
Tea, fashion show at senior center
The Monmouth Senior Center will host its annual Victorian Tea with two settings — noon and 2:30 p.m. — on April 29.
A fashion show will accompany the tea service.
Tickets are $8 each. Space is limited to 40 people per seating.
For more information: 503-838-5678.
Art, cheesecake at Dallas library
The Dallas Public Library will host an evening of art and cheesecake at 6 p.m. on Friday.
Come enjoy art submitted by local teenagers reflecting their favorite literature while listening to live music provided by Emmaly and Wyatt Basaraba. Coy's Cheesecake will provide the dessert.
Tickets are $5 and available at the library, 950 Main St.
For more information: 503-623-2633.
Dinner celebrating survivors Saturday
Eola Hills Wine Cellars will host the second annual Survivor Dinner and Celebration, sponsored by Relay For Life of Polk County and Team Perrydale.
The event begins at 5:30 p.m. on May 2 at Eola Hills, 501 S. Pacific Highway 99W, Rickreall. Dinner and entertainment starts at 6:15.
Survivors of cancer and a guest will be honored during this evening of fun, food and festivities.
RSVP to Vicki Bailey by Thursday is requested.
RSVP or more information: 503-623-5241 or email vickibaile@aol.com.
YMCA to host Healthy Kids Day
The Monmouth-Independence YMCA will host the YMCA's Healthy Kids Day on Saturday. The national initiative is aimed at improving health and well-being for kids and families.
The event, which runs from 10 a.m. to 2 p.m., will feature various activities, including games, healthy eating demonstrations, and arts and crafts to motivate and teach families how to develop a healthy routine at home.
There is no cost to attend.
For more information: Natascha Cronin, 503-838-4042.
Dallas Area Seniors host jam
Dallas Senior Center will host its "Spring has Sprung" music jam Thursday at 6:30 p.m. at the Dallas Senior Center, 955 SE Jefferson, Dallas.
Musicians, and music lovers, regardless of age, ability or musical style, are welcome to listen or perform. Admission is free, though donations of snacks for intermission are appreciated.
For more information: Michele Griffin-Campione, 503-507-5240, or on Facebook under "Dallas Area Seniors."
RFL Scrap for a Cure is Sunday
Scrap for a Cure, a fundraiser hosted by Team Hope and Relay For Life, is Sunday from 11 a.m. to 5 p.m. at The Majestic in Dallas. Scrap bookers, card makers, paper crafters and those interested in sharing an afternoon of fun are all welcome.
The event will include pizza, snacks, ice cream floats, raffle prizes, and a swap table to share extra items. Vendors taking part in the event include: Close to my Heart, The Pampered Chef, Thirty-One and Stampin' Up!
The cost is $20 per person and goes to the American Cancer Society along with any other donations.
For more information: contact Mavel at 503-510-6275 or email ladysnoopymom@yahoo.com.
Youth bakers' class teaches how to make breads
Join Polk County Extension Service in a Step up to 4-H class about making yeast breads from 9:30 a.m. to 2 p.m. on May 2 at the Extension Office, 289 E. Ellendale Ave., Suite 301.
Registration is due on April 29.
Participants will learn about yeast and gluten and how it impacts raised bread products. They will make a batch of rolls, small loaf of yeast bread and artisan bread. This class is not limited to 4-H members, but youths must be at least 9 years old. Cost is $10 for 4-H members; $12 for nonmembers.
For more information or to preregister: Extension Office, 503-623-8395.