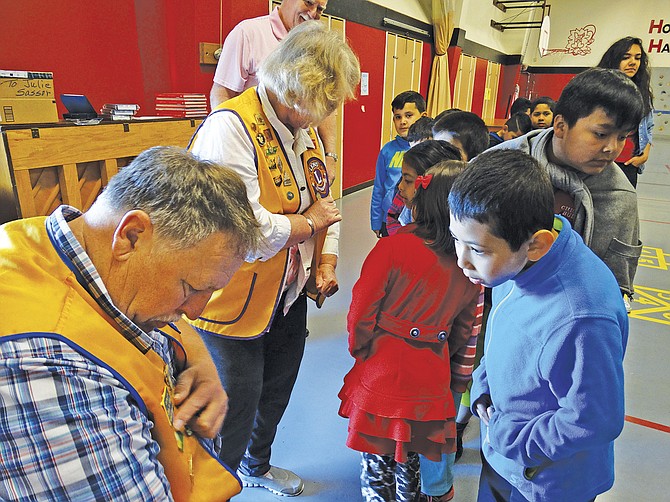 BPA offers grants in science/energy
POLK COUNTY — The Bonneville Power Administration will offer grants in science and energy education to nonprofit organizations, schools and others in support of work to educate students in grades K-12 about energy systems of the Pacific Northwest.
Funded projects could focus on hydroelectricity, wind and other sources of electric power, methods of conserving electricity, or studies of energy and environment, for example.
Applications for project funding are due May 8. Funding will be awarded in June.
For more information: 503-230-5131 or www.bpa.gov.
Perrydale auction tickets on sale
PERRYDALE — Tickets are now on sale for Perrydale Parent's Club annual dinner and auction, slated for May 16.
This year's dinner will be built around the theme "Taste of Italy." Proceeds from the annual event support school activities, such as field trips, educational assemblies and career exploration opportunities for students. PPC also has assisted with upgrades in the school's science lab and purchasing playground equipment.
Auction and dinner tickets are on sale online at www.perrydaleparentsclub.com or in the school office for $22 per person or $160 for a table of eight. The deadline to purchase tickets is May 12
For more information: Perrydale School, 503-623-2040.
Community health fair is Thursday
INDEPENDENCE — Talmadge Middle School will host its ninth annual Biannual Community Health Fair from 5 to 7 p.m. on Thursday in the gymnasium and cafeteria.
The event is open to the community and will include interactive health exhibits, dental and medical information, and fitness and recreation booths. The Central Lions Club will check people's vision and blood pressure, while volunteer health professionals will be on hand to test for diabetes and glaucoma.
A free dinner will be available from 4:30 to 6 p.m.
For more information: Cheri Higgins, 503-606-2462, or via email at chiggins@central.k12.or.us.
DHS thespians earn state honors
DALLAS — Two Dallas High School thespians brought home awards from the Oregon State Thespians State Festival in Salem held April 9-11.
Junior Alicia Scherer took first place in the Short Film division for the second film she directed, "The Kiss." Senior Rachel Tilgner took second place for her work as stage manager — her first stint in a non-acting role — in the Dallas High School production of "Our Town."
Senior Selena Harris also competed at state in duo dramatic acting with Tilgner in a scene from one-act play, "Miss Polly's Institute for Criminally Damaged Young Ladies Puts on a Show."
Budget meeting set for Monday
DALLAS — Dallas School District's Budget Committee will meet on Monday at 6 p.m. at the district office, 111 SW Ash St.
The meeting will include the budget message for the district and discussion on the 2015-16 budget.
A copy of the budget will be available at the district office Tuesday.
For more information: 503-623-5594.
FFA plant sale Friday, Saturday
INDEPENDENCE — The Central FFA plant sale is 1 to 6 p.m. on Friday and 8 a.m. to 4 p.m. on Saturday at the Central High School greenhouse. Plants for sale include tomatoes, peppers, zucchini, squash, strawberries, herbs, flowers, hanging baskets and more — all ready to plant in the garden. Proceeds go to the FFA and horticulture classes at CHS.