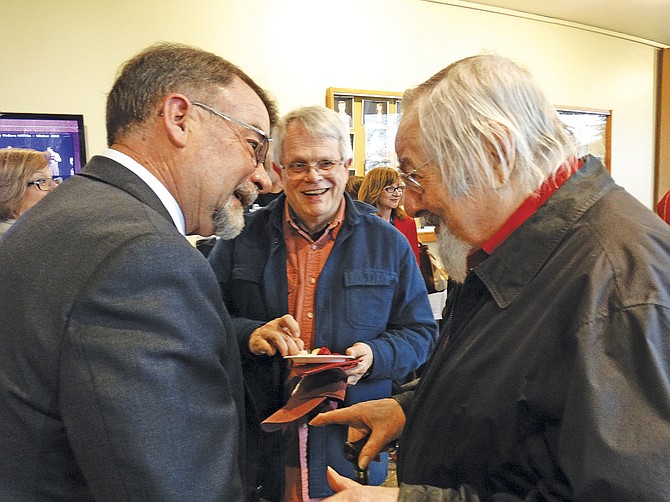 MONMOUTH — Rex Fuller doesn't want to wait until July 1, when he takes over as Western Oregon's 23rd president, to begin the first thing on his to-do list: listening and learning.
"I hope to be able to arrange for some of that during the transition days between now and July," Fuller said.
Fuller, 62, an economist and professor of public administration, has served as provost and vice president for the division of academic affairs at Eastern Washington University in Cheney, Wash.
He said the Mid-Willamette Valley is a perfect fit. He and his wife, Susan, have already begun searching for a home in the Monmouth area.
A competitive tennis player and golf enthusiast, Fuller said Oregon has a great lifestyle.
More important than the geographical area, Fuller is excited to serve as WOU's next president.
Throughout his short two-day tour and interview April 7 and 8, Fuller said WOU's commitment to student success was evident around every corner.
"During the interview (process), the messages just reinforced each other," he noted. "They were different voices and different perspectives, but there was a thread that tied things together."
Students voiced their concerns using language describing hopes and dreams, while faculty talked about their work using words more commonly associated with educational professionals, but it all boiled down to one thing: a deep commitment on everyone's part for students to succeed.
Fuller is ready to honor Western's past while moving the university forward.
"I look forward to learning more about (WOU's core values) and then working with colleagues to say, what's the next level? What's the opportunity for us to take Western to one more level of distinction, because I think it's poised to do that," Fuller said.
He knows there will be challenges ahead, and notes that it is up to the students, faculty and administration of Western to make sure WOU is successful.
"I'm a student of continuous improvement," Fuller said. "I think we can make things better all the time. I think, as a leader, if you're transparent about that expectation, people will participate in and share ideas in ways that are pretty exciting and innovative."
He plans to finish out his career at Western, which he doesn't expect to end anytime soon.
"I hope to be really successful," Fuller said. "We're starting with a two-year contract, but it's renewable. I plan to make that possible. I'm in good health; I enjoy work. I'm convinced I will have a very long career."
Fuller was chosen as WOU's next president by the Oregon State Board of Higher Education upon recommendation from Western's board of trustees — a board which won't assume governance over the university until July 1. A presidential search committee helped narrow down the more than 45 applications received for the position. Four candidates were invited to the university for interviews, tours and forums between April 1 and April 8.
He will take the helm from President Mark Weiss, who will retire June 30.