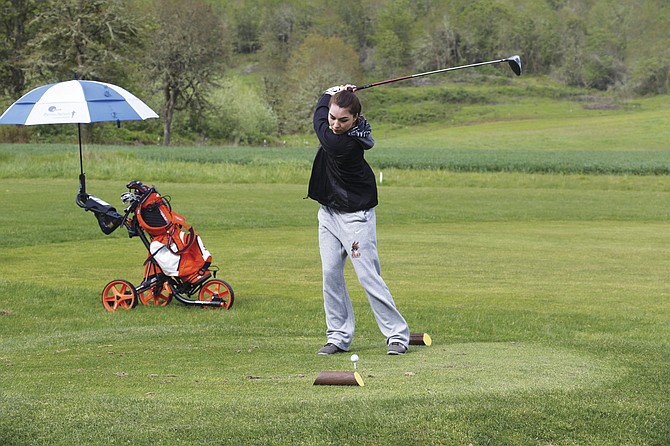 DALLAS — On the golf course, Dallas sophomore Kailee Curtis is one of the Mid-Willamette Conference's most respected.
She's a consistent top-five finisher in the MWC and appears ready to contend for an individual berth to the state golf championship.
But Curtis is fighting for more than just the accolades.
"There's so many people who don't take me seriously when I say I play golf," she said. "They just don't understand it and how hard it can be."
It's nearly impossible to ignore Curtis on the course now. On Monday, Curtis finished third, which came after a second-place finish overall on April 20 at Trysting Tree Golf Club in Corvallis.
To some, her rapid rise may come as a surprise. But for those who know her best, Curtis' finishes aren't the result of luck.
"The big key for her is she kept playing all summer long," Dallas girls coach Sharon Epping said. "She didn't come into the season cold. I've never seen a dedicated player like her."
In the Curtis family, golf isn't just a game, it's a passion. Her older brother has taken golf lessons at Oregon State. Her father has worked on maintaining golf courses. And, shortly after her freshman season, Curtis' golf game became a family affair.
"My dad and I established my goals for the year," she said. "The first one was to break 100, then to break 95 and then a 90, so shooting a 91 (on April 20) was really awesome. I blew right past those goals."
Curtis is focused on lowering her score even more, specifically through her short game.
"Putting and chipping (is what I struggle with most)," she said. "Distance-wise is where I have trouble, because I leave them short a lot."
In addition to practicing during the offseason, Curtis' performance can be linked to a change in attitude — golf doesn't feel like a chore. It's something she craves.
"I've learned to relax a lot and have a lot more fun," she said.
The Dragons have one regular season meet left at Trysting Tree on Monday, when Curtis will not only be looking to break 90, but also set herself up to qualify for the state tournament.
"That's been my goal ever since I started, so it's really cool to know I'm getting close," she said. "It would mean so much, and would be rewarding for people to realize that I'm actually good."
Curtis qualified for the regional tournament, May 11-12 at  Trysting Tree Golf Club in Corvallis.
While Curtis is soaring, the girls team is struggling for numbers. Curtis was one of two players competing on April 20, along with Natalie Crabtree, who is in her first season playing competitive golf.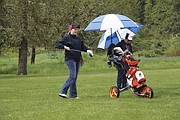 Crabtree will also play in the regional tournament May 11 and 12.
"I've grown up golfing, but this is the first year I've played competitively," Crabtree said. "I've gotten used to my clubs, knowing when to use what clubs and it's been really helpful to gain this experience."
Dallas cannot qualify for state as a team without at least four golfers to score.
Both Epping and Curtis hope Curtis' success can show others how accessible golf can truly be.
"I just taught one of my most uncoordinated friends how to hit a ball in 30 minutes," Curtis said. "It takes a lot of work, but you can get it."


As Dallas prepares for its final regular season meet, Curtis knows this is crunch time for her game.
"I would like to keep my score in the same area that it's been and stay in the top five," Curtis said. But while she aims to check off one of the few remaining goals she's yet to surpass this season, she also knows the key to her success won't lay in putting pressure on herself.
The true secret lays in reminding herself why she walked onto the course in the first place.
"I'm just out there to have fun," Curtis said. "Playing well is a bonus. If I can do that, it will be rewarding for (the doubters) to finally realize that I'm actually good."