Williamson Distinguished Educator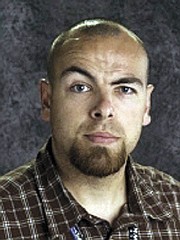 DALLAS — Whitworth Elementary School fifth-grade teacher Brian Williamson was named the April Distinguished Educator on April 17.
Two of his current students, Sophia Baughman and Lilly Garrett, nominated him for the honor, saying, "He shows he cares about our learning by encouraging us and making learning interesting and fun."
They added Williamson has another talent, teaching, "strategies and shortcuts and makes math fun and easy."
His other students agreed with Sophia and Lilly, adding "He's plain awesome" and "He's fun so we don't get bored."
The Distinguished Educator Program recognizes "excellence in teaching and learning" in Dallas School District schools.
Perrydale hosts safe driving event
PERRYDALE — The Perrydale Parents' Club is hosting a teen driver education event at Perrydale School on Thursday.
Kelly Owen, a trauma nurse at Salem Hospital, will be the guest speaker at the event, Trauma Nurses Talk Tough, which will help teen learn to drive safely. The talk will be in the science lab at the school, 7445 Perrydale Road, Amity.
Call the school office to register, 503-623-2040.
Polk County students listed on Santiam Christian third quarter honor roll.
Santiam Christian School announced their honor roll for third quarter.
The following students from Polk County were named on the honor roll:
Seventh grade: 4.0 grade-point average; Ainsley Beam. 3.5-3.99 GPA; Olivia Bellinger-Verbics, Lily Hardy and Amanda Preston.
Eighth grade: 4.0 GPA; Tony Li, Jason Manzi, Winn Miller, Isabel Montoya, Abby Riedlinger and Cole Setniker.
Ninth grade: 4.0 GPA; Kaylee Breyman, Laura Guariglia-Castro, Grace Moseman, Sebastian Perfecto, Rebeka Preston and Zachary Watson. 3.5-3.99 GPA; Samuel Barton, Caitlyn Killion, Shelby Myrick-Duckett and Kyle Paratore.
10th grade: 4.0 GPA; Peggy Liang, Mikayla Manzi, Katie Richert, August Thornton and Alexandra Watson. 3.5-3.99 GPA; Daniela Boehm, Marta Cercos Gonzalez, Makenna Setniker and Jeremiah Tindle.
11th grade: 4.0 GPA; Jocelyn Porath and Kevin Sheng. 3.5-3.99GPA; Leahgrace Connor and Joaquin Guerrero-Rodriguez.
12th grade: 4.0 GPA; Justin Aldrich, Caitlin Fettig, Olivia Ledeboer and Jacob Manzi. 3.5-3.99 GPA; Heather Bellinger, Tanner Butler, Michael Chung, Katy Paratore, Liam Perry, Moriah Sutter and Adam Wiens.
More like this story