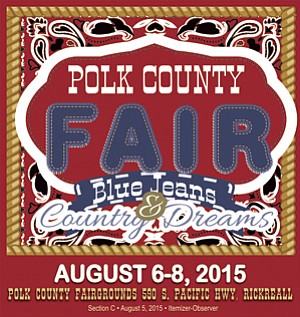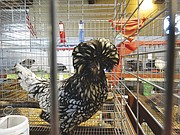 RICKREALL — Beer, wine, and coffee.
Apparently, it's the year of the beverage at the Polk County Fair 2015, "Blue Jeans & Country Dreams," which kicks off Thursday and run through Saturday.
The annual county showcase also will bring many other changes.
You will see the first one when you arrive. Admission prices have increased, the first change in fair prices since 1994.
Adult single-day tickets will be $8, up from $7. Adult season passes will now be $20, up from $15. Youth (ages 11-15) and senior (62 and older) single-day tickets are now $5, up from $3. Season passes for youth and seniors are unchanged at $8. Children 10 and younger still get in free.
Historically a four-day fair, the fair board decided to eliminate Sunday from the schedule in an effort to balance revenue to costs. That required schedule juggling — cramming, really, in some places — so check to see when your favorite event is happening because it could be different than in the past.
Also, despite the best efforts of Fair Manager Tina Andersen, the event will not feature a traditional carnival with rides.
That is what is missing; here's what's new or coming back this year.
Added to this year's attractions is a beer and wine garden featuring the tasty work of Rogue Ales and Eola Hills Wine Cellars.
Rogue will be bringing in a variety of locally made brews, ranging from an always popular IPA and something for light beer and dark beer lovers. Eola will feature three whites and three red, moving from sweet to dry.
If you are not yet 21 — or alcohol just isn't your thing — the fair will have a coffee stand on the grounds if you need the extra kick, or maybe a frozen hot chocolate.
Like hot dogs? Dog Gone Coastal, a new vendor this year, puts a little creativity into the classic fair food. As an example, the featured hot dog "beach picnic," will have potato salad and barbecue chips on it.
"He does all sorts of weird hot dogs," said Linda Friedow, an administrative assistant at the fair.
Funnel cakes and deep fried Oreos are on the menu at another food vendor new to the fair this year.
Need some excitement in your Thursday night?
Returning opening night is the first rodeo of any type the fair has had in years. The Hell on Hooves Roughstock Rodeo will take over the arena Thursday night.
"Wayne White from Wild West Events has been bugging us to put on a rodeo for a long time," Andersen said. "But we just couldn't afford it in the past."
White stepped up to sponsor part of the cost to bring the rodeo to Polk County. It should be an edge-of-your-seat experience.
"People should come and watch and see what this is all about," Andersen said. "It's fast-paced and has nonstop action the whole time."
Andersen said the community response to bringing back the rodeo has been positive and along the lines of, "It's about time."
Even without a carnival, children will have plenty to do with Madjek Inc. inflatable rides and attractions (are you ready for the Zorb balls?), obstacle courses, safety demonstrations, science and agriculture projects and games in the playground area.
The Polk County Livestock Association's popular youth livestock auction has been moved as well, from 6 p.m. to 3 p.m. on Saturday to eliminate a timing conflict with musical headliner Carrie Cunningham at 8 p.m.
Traditional events and attractions – exhibits, animal shows and vendor booths – remain a mainstay of the Polk County Fair with a few additions including a coffee stand and a hot dog vendor with creative takes on the classic fair food staple.
Andersen said, so far, she hasn't heard many concerns about the changes and is waiting to see what people think once the fair kicks off Thursday.
"We've actually had a lot of phone calls of people asking when things are taking place, but no complaints," she said.
In recent years, The Polk County Fair has been reaching out to the public for assistance in finding ways to attract more attendance during its key event of the year. Even the 2015 theme, "Blue Jeans and Country Dreams," was part of a contest to find a theme with wider appeal. The 2015 fair is the culmination of those feasible opinions and suggestions.
"We did our fair survey and have tried to implement everything people have asked for," Andersen said.
Blue Jeans & Country Dreams
What: 2015 Polk County Fair.
Where: Polk County Fairgrounds and Events Center, 520 S. Pacific Highway (99W), Rickreall.
When: Thursday-Saturday, Aug. 6-8.
Hours: Thursday and Friday, 10 a.m. to 10 p.m.; Saturday, 10 a.m. to 11 p.m.
Daily Admission: Adults (16 and older), $8; Juniors (ages 11-15), $5; Seniors (ages 62 and up), $5; Children 10 and younger, free; Members of the military (with ID on any day), free.
Season Passes: Adults, $20; Juniors and Seniors, $8; Children 10 and younger, free.
Parking: Free.
Of note: The 2015 Polk County Fair is a nonsmoking event, including e-cigarettes.
For more information: 503-623-3048.