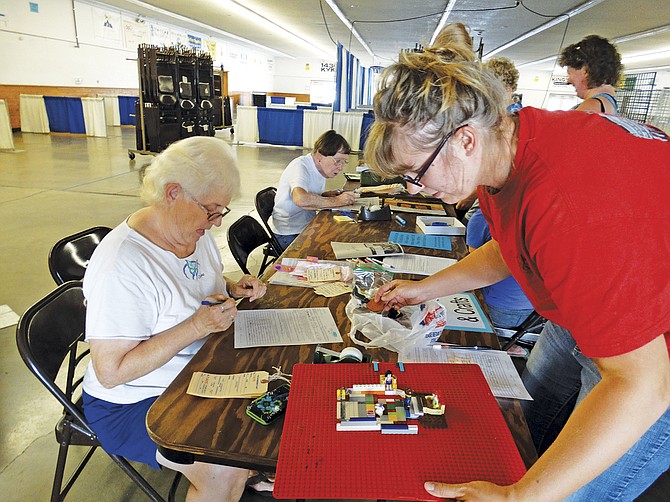 Rickreall Grange sale this weekend
The Rickreall Grange Hall Community Sale will be Friday, Saturday and Sunday at the grange hall, 280 Main St., Rickreall.
A bake sale will be included on Friday. On Saturday, guests may operate trains. A farmers market will be on Sunday. Breakfast and lunch specials will be held all weekend.
The sale is open to all vendors, whether local or from out of town. Admission is free.
Friday and Saturday hours are from 9 a.m. to 4 p.m. Sunday, the sale will go from 9 a.m. to 3 p.m.
For vendor rates or more information: Blanche, 503-623-8289.
Block party, yard sale Wednesday
First Baptist Church will host its annual block party and yard sale from 8 a.m. to 3 p.m. on Saturday at the church, 245 SW Church St., Dallas.
The event includes free food and fun, open to all.
For more information: 503-623-5189.
Changes to meals at senior center
Monmouth Senior Center is in need of people to come eat meals. Dining times changed effective Tuesday. Meals will only be served at 11:30 a.m. on Tuesdays and Thursdays.
NorthWest Senior and Disability Services provides the meals to seniors aged 60 and older. To arrange delivery or to RSVP, call Nancy at 503-838-2084.
Meals are by donation only. Suggested donation is $3, but no donations are required.
For more information: Nancy, 503-838-2084.
Open class entry today at county fair
Exhibitors for open class entry in grains, honey, forestry, floriculture and horticulture may turn in their exhibits from noon to 8 p.m. on Wednesday (today) at the fairgrounds, 520 S. Pacific Highway (99W), Rickreall.
People will be on hand to help fill out entry forms and answer questions. Exhibitor books may be found online at www.co.polk.or.us/fair, or at the Polk County Fairgrounds & Event Center main office.
Prizes donated by local businesses.
For more information: Tina Andersen, 503-623-3048.
Senior Center looks for teachers
The Monmouth Senior Center is looking for people to teach classes on different subjects. Right now, the center is looking for teachers for painting and American Sign Language. The opportunity may be paid.
For more information: Sue Teal, 503-838-5678.
Wood-fired pizza at Left Coast Cellars
Left Coast Cellars hosts wood-fired pizza each Friday during the summer from 5 to 7 p.m. at the winery, 425 N. Pacific Highway (99W), Rickreall.
Relax on the patio, dine on pizza and garden-fresh salads. Wine is available by the glass or bottle.
Left Coast Cellars' tasting room is open from 11 a.m. to 5 p.m., and until 7 p.m. on Fridays and Saturdays during the summer.
Engaged seeks vision volunteers
Community members, Western Oregon University students, visitors and other interested people have returned more than 1,400 surveys to share their visions of Monmouth's future through the city of Monmouth's visioning process, Monmouth Engaged.
The next community meeting will be at 7 p.m. on Tuesday in Volunteer Hall, 144 Warren St. S., in Monmouth.
The event will be for people to sign up to help make Monmouth's future happen.
For more information: ci.monmouth.or.us.
Buell Grange to host open house
Buell Grange Hall will host an open house from 9 to 11 a.m. on Sunday. Refreshments will be served.
The hall is at 5970 Mill Creek Rd., just off Hwy 22 norhwest of Dallas.
At the same time, organizers will accept usable items to be sold at the Annual Fall Market to benefit Grand Sheramina Food Bank and Buell Grange. The fall market is Sept. 18 and 19.
Rafters set to race this Saturday
The Great Willamette River Raft Race is from 8 a.m. to 2 p.m., starting at Riverview Park. Home-built crafts, rafts and inner tubes launch at 9 a.m. Canoes and kayaks launch at 9:30 a.m.
The race is a tradition the whole family can enjoy. Business teams are welcome, too. The race starts in Independence and goes about 11.5 miles down the Willamette River to Wallace Marine Park in West Salem.
Kayaks and canoes travel the distance in about two hours. Others may take up to four hours.
Registration on the day of the race is $15 per person. A $5 invasive species permit may be required. Proceeds benefit the Networking Exchange Club of Salem/ Keizer.
For more information: www.willametteriverrace.com.
More like this story