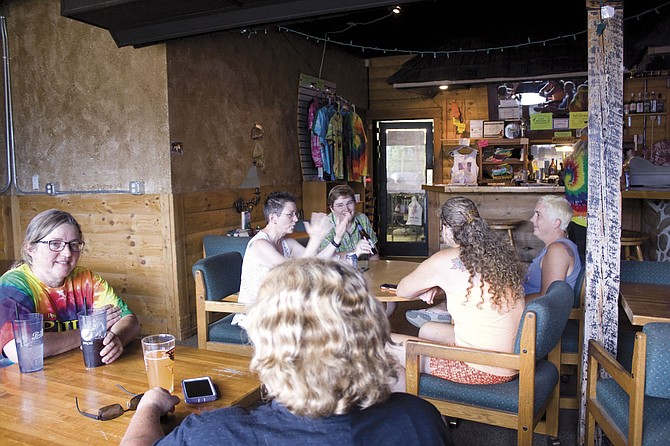 FALLS CITY — Lori Jean Sickles and Laura Britton thought it was about time Polk County had its own LGBT pride festival.
Portland does it, Salem does it, Eugene does, too — so why not Polk County?
Sickles and Britton, owners of The Boondocks in Falls City, paired up with The Bread Board owners John Volkmann and Keith Zinn to put on Saturday's event, the first pride event in Falls City.
"We talked about it last year, but we were still overwhelmed with The Boondocks," Sickles said. "This year, we made it a priority."
Planning for the event seriously began in June — coincidently, LGBT pride month — and resulted in Saturday's event. About 50 people turned out.
Not too bad for a scorching August Saturday, Sickles said.
"I think we would have had more participation if it hadn't been so hot," Sickles said, noting that the Valsetz reunion also met in Falls City on the same day. "I think it was successful. Everybody was enjoying themselves."
The day began at noon in Falls City Lower Park with a family-friendly picnic-like atmosphere. The Boondocks provided hamburgers and people were able to relax by the Little Luckiamute River. In the evening, the party moved to The Bread Board for a pizza fundraiser for next year's event.

The night closed at The Boondocks, with open mic and karaoke.
Mary Jo Edwards, of Corvallis, attended the event with her partner, Gina Gonzales. She said when she first heard about a pride celebration in Falls City, she was skeptical about how it would be received in such a small town.
That opinion changed the more she visited the town after hearing about The Boondocks at Salem's pride celebration last year. Saturday she was happy with the turnout — and even more impressed with the amount of support the celebration received from people who are not gay.
"That's what I loved about this, it was truly a community event," she said. "It really changed my mind about small towns. Falls City is great."
Sickles and Britton said they will plan another pride day for 2016 with proceeds from the pizza fundraiser and sale of pride T-shirts.
"We will figure out what worked and what didn't," Sickles said. "We'll get feedback from people and have a better one next year."