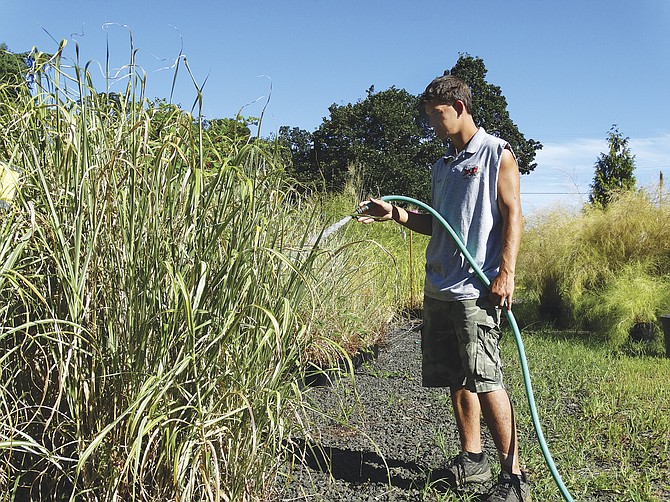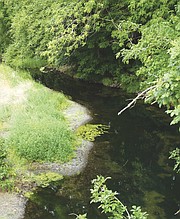 POLK COUNTY — A lack of water in Rickreall Creek is forcing Daryll's Nursery to hold its season-end close out sale early.
The Oregon Water Resources Department issued Daryll Combs, the owner of the Dallas nursery, notice that his water right was immediately suspended due to low creek levels.
The amount of water flowing now is not enough to serve all water rights, so those issued after June 1, 1964, have been suspended.
Rickreall Creek is dry just east of Rickreall, according to a notice issued by the city of Dallas on Thursday.
Combs said this has never happened before.
"I'm feeling really sick because I've worked really hard to build this business," Combs said. "I never dreamed of this happening."
The city of Dallas issued him an emergency permit to use city water from his house to water plants in the nursery. That has helped, but he's not sure how long that will last and how much it will cost.
Friends are trying to help as much as possible, too, trucking in tanks of water.
"People have come through to give me water from their wells, so it has been nice of them to bring that to me," Combs said.
Still, he's been forced to sell as much inventory as possible, putting discounts up to 80 percent on his plants.
"It is just devastating," Combs said. "I have plants that are dead and plants that are half dead."
Combs said he would normally discount plants that much during his fall sale starting in September, but he's afraid none will be alive by then.
"We are not going to make it that far," he said. "This will take the place of that sale."
Not all Polk County residents are getting shutoff notices, but the call to conserve water is coming everywhere, and just weeks apart from reports to city councils that water levels were fine.
On July 14, Independence Public Works Director Mike Danko told the city council that water levels were typical for a dry season, but nothing to worry about.
He and his staff were keeping a close eye on them. Not a week had gone by and signs were put up downtown encouraging water conservation.
"Our water level testing the following Monday showed the wells continue to drop," Danko said. "To be prudent, it's wise to try and conserve water rather than end up in a situation in the future where we would need to initiate water use curtailment plans like other communities have done."
In Monmouth, Public Works Director Russ Cooper said water levels are also down, consistent with what he would expect in late summer.
"I have heard a lot of conservation publicity this summer with droughts in the west and our unusually hot weather," Cooper said. "Folks are receiving the message to conserve water from a number of sources. We encourage folks to continue using water wisely."
That includes letting lawns remain dormant, Cooper said.
"Let the fall rains green them up," he said. "It would require a lot of water to green lawns back up during the remaining hot and dry months of summer."
No city in the county has issued as stern a conservation message as Dallas.
On Thursday, Dallas City Manager Ron Foggin issued a voluntary water restriction advisory after the District 16 Watermaster issued shutoff notices to Combs and others who had water rights issued after the 1964 date.
Restrictions include asking residents to avoid running water to clean buildings, pavement, tile, wood, plastic or other surfaces; avoid irrigating from 8 a.m. to 6 p.m.; and avoid using any water that causes runoff beyond the immediate vicinity of use.
"We strive to be the best stewards of the water resource as well as good neighbors," Foggin said in the release. "The city makes every effort to keep a million gallons of water a day moving down the creek."
He assured residents that the city has enough water to get through the fall.
"These restrictions are voluntary, but I feel that if we all take action, our community will be able to slow the city's use of water and help those users downstream," Foggin said.
In Independence, Danko said he is worried about water levels into the fall and winter, but stressed he is not alarmed yet.
"At this point, I'm more concerned about next season, since another warm winter has been forecast in the news," Danko said.
Combs said he wished he could have had some advance warning this would happen so he could have planned for it better than having to slash prices now. He's not yet sure how much this devastating season will affect Daryll's Nursery's revenue for 2015.
"It'll hurt financially," he said. "It's going to hurt for sure."
Voluntary restrictions
Avoid:
• Running water from a hose, pipe or faucet to clean buildings and paved, tile, wood, plastic or other surfaces.
• Adding water to ornamental fountains, ponds and other water features.
• Using water that causes runoff beyond the area of use.
• Use of potable water for cleaning, irrigation or construction purposes.
• Irrigation any time between 8 a.m. and 6 p.m.
Also: All restaurants are asked to refrain from serving water except upon request from the customer.
Operators of motels are asked to post notices of drought conditions in each room.
Residents are urged to take vehicles and boats to commercial car washing facilities equipped with water recycling equipment, or by use of a bucket and hose equipped with a self-closing valve.