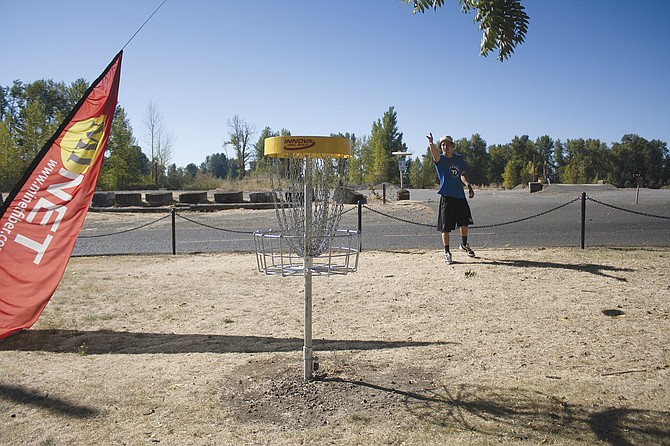 INDEPENDENCE — Recently finished, the MINET Disc Golf Course in Independence's Riverview Park will have its big unveiling this weekend.
Sunday, the course will be home to the Summer Fling Disc Golf Tournament, the capstone on developer Hayden Rue's two-year effort to build a course in Independence.
With support and financial backing of Monmouth Independence Networks (MINET), the city of Independence, Veal's Bikes Plus and Capital City Disc Golf in Salem, Rue designed and built the 15-hole course himself. Rue even earned an internship with the city to complete the project and promote its use.
An avid disc golfer — he played professionally during his first two years at Western Oregon University — Rue said the idea to build the course stemmed from the urge to make playing his sport a little easier.
"I was just at home in Monmouth, and I thought it would be nice to have a disc golf course closer to home," he explained. "And I knew this was the biggest park (Riverview) around."
He approached MINET and later the city of Independence for assistance and began working on his vision.
Last summer, the first seven holes were installed. Those holes are shorter and less challenging, designed to be approachable for golfers off all abilities. For those seeking a higher level of difficulty, the back eight, located north of the amphitheater and across Ash Creek, should provide plenty of challenges.
"I've seen quite a few families playing out here," Rue said. "There's starting to be a lot of out-of-town people, which is good for the town."
Rue's objective with Sunday's tournament is, in part, to boost the reputation of the course for people who wouldn't normally travel to Independence. He's expecting more than 50 people to compete and will add three temporary holes to make it an 18-hole course.
The event, hosted by Mecanico, is sanctioned, therefore offering cash prizes to players. This year, the Summer Fling will be two rounds of 18 both played on Sunday. Rue said he wants to expand it in the future.
"Capital City Disc Golf and the city of Independence are interested in making this an annual thing," Rue said. "I'm hoping to expand it to three rounds (over two days) and having camping available in the park to make it a real event."
Shawn Irvine, Independence's community development director, said he's seen quite a few people using the course and would like to see the tournament build on that.
"It's just another fun thing to do in Independence," Irvine said. "These kinds of things, it seems small, but it's going to bring people in from out of town, and that is what we are looking to have happen."