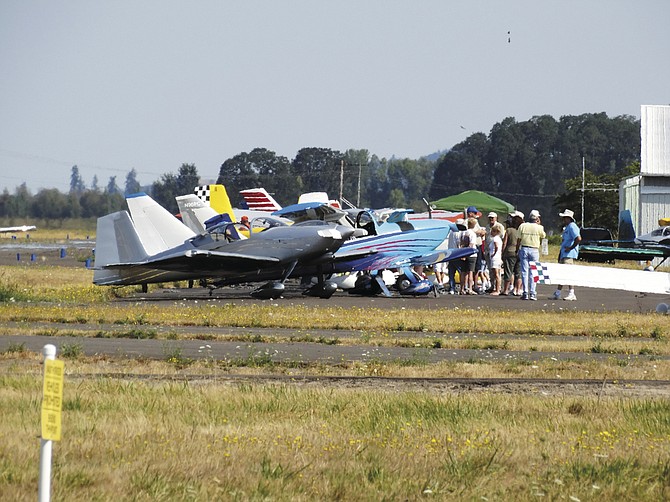 INDEPENDENCE — A fleet of aircraft will descend at the Independence State Airport this weekend during the Independence Fly-in and Van's Homecoming.
The fly-in runs from Friday through Sunday, and is not just for general aviation pilots. The public is welcome to come have breakfast, bid on silent auction items, view classic aircraft, learn about aviation and stay for lunch.
"The biggest activity will be Saturday," said Marcia Noell, event organizer.
This year the club is focusing on classic aircraft — generally fabric-covered planes from the 1930s and 1940s.
"A classic aircraft might be like a Piper Cub or Aeronca," said Dave Ullman, chapter 292 president.
"Oregon Aviation Historical Society out of Cottage Grove is bringing in a Stinson SR5, and our neighbors are bringing out a beech staggerwing," Noell added.
"Which is an absolute classic," Ullman noted.
The beech staggerwing is a bi-wing aircraft with the lower wing out front, Noell explained.
"Typically on a bi-wing, the top wing is mounted forward of the lower wing," she said. "This one has the lower wing forward."
Vendors will be at the airport for both pilots and those interested in flying. Youths who have already learned about aviation and building aircraft hands-on at the Experimental Aircraft Association Chapter 292 hanger will have an info booth for young people to learn more about aviation.
Noell said the booth will serve as a good way for kids to talk to other kids who have experience in aviation about those interests.
"They can talk to students who have been through these projects instead of just old people like us," she said.
Providing opportunities for youths is the main purpose of the fly-in, with all proceeds from the event supporting teen aviation activities, Noell said.
EAA Chapter 292 members help get interested teenagers into a career in aviation. Two students who started out helping build a Sonics aircraft in the club's hanger went on to get their aviation technician certifications, Noell said.
Because of fundraising efforts such as the money raised through the Independence Fly-in, Chapter 292 was able to pay the $2,200 for tools for each student, Ullman said.
Two-thirds of pilots in commercial business come from the general aviation sector, Noell noted, meaning the military is not the only — or even maybe the best — way to get into the pilot business.
Chapter 292 pilots try to help develop interests in aviation through biannual Young Eagles flights, annual Teen Aviation Weekends and by including teenagers in building aircraft alongside seasoned pilots.
During the fly-in, pilots will come from all over the state — and from out of state — to see what Independence has to offer. Participants may choose to take a wine tour, quilt tour, or a special edition of Marilyn Morton's famous ghost walk.
Silent auction items include gift baskets and a flight in a Piper Cub plane.
Stop over at the Airport
What: Independence Fly-in and Van's Homecoming, sponsored by the EAA Chapter 292.
When: Friday, Saturday and Sunday. Breakfast from 7 to 10:30 a.m. on Saturday and Sunday, $5. Lunch at noon on Saturday and Sunday, $6.
Where: Independence State Airport, 4905 Airport Road.
Of note: This fly-in also celebrates the 50th anniversary of the Independence State Airport. A shuttle will run from the Marquis parking lot to the hanger from 7 a.m. to 3 p.m.
For more information: www.eaa292.org/flyin.