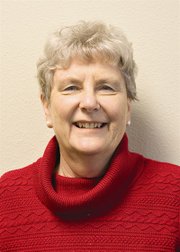 The entire community was profoundly sorry to hear of the death of Eric Schwanke's 18-year-old son, Arlin, an outstanding young man loved by all. He'd fallen asleep while driving home after a hard day of work. He will be sorely missed.
—
The Polk County Fair is now over and LaVerne Bennett and I were pleased to be awarded with outstanding exhibit ribbons on our quilts. We received nice prizes, too, and thank the donors for them. Abigail Makalea showed her friend's 4-H market hog for her, a first-time experience, and found it was a challenge to keep the squealing pig in the middle of the ring. Jerry Mentzer and the Polk County Saddle-ites helped with parking this year, and so were particularly thankful that our temperature had moderated.
—
Juandeane and Skid Skidmore's granddaughters Rachel and Sara, daughters of Roy and Teresa Furutani of Los Angeles, spent a week here in the Pacific Northwest to visit our colleges and universities.
Rachel is a high school senior this year and is considering coming here for college.
—
The Pedee Women's Club has a beautiful king-size red, white, and blue quilt that they were selling raffle tickets on at the fair, to raise money to send more boxes to our soldiers overseas.
Thanks to Pam Burkhalter, a member who lives in Monmouth and who can sell anything to anyone, they sold a huge amount of tickets.
They will sell tickets at their holiday fair in November, then the drawing will be on Nov. 14.
More like this story