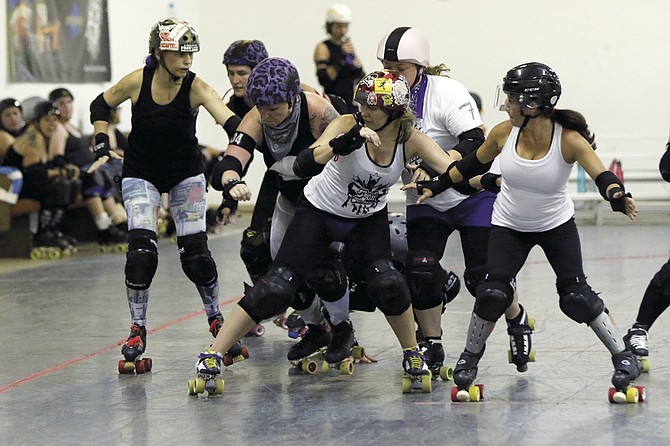 SALEM — Throughout her life, Dallas resident Sarah Hausman has always watched sports from the sidelines.
Since discovering roller derby five and a half years ago, Hausman is no longer just a spectator. She's become what she thought she would never get the chance to be — an athlete.
"I had never done a sport in my life," Hausman said. "To start a sport at the age of 32 and to be considered an athlete, it still blows my mind. It seemed out of the realm of possibility."
Hausman's determination and new found love helped her to achieve the seemingly impossible.
—
It was a friend who introduced Hausman to Cherry City Derby Girls.
After getting a glimpse into the roller derby world, the atmosphere, from the outfits to the crowds, intrigued her.
There was just one complication — Hausman didn't know how to skate.
"Man, I have no idea (why I first joined)," Hausman said, smiling. "I didn't know how to skate, so why did I think I could do this?"
She was determined to learn, and master, her new passion. Luckily, Cherry City teaches new recruits the basics of skating from learning how to fall to being able to take and receive hits.
"It's really open to everyone," Independence resident Amanda Horne said. "You don't have to know how to skate. If you want to be on a team one day, you can work toward that. Some people just skate for fun and recreation. It's probably a lot more accessible than you think and you can pursue this to your own level."
It took Hausman about a year to feel truly comfortable on skates, but she never felt discouraged.
"We have girls of all abilities and backgrounds," Hausman said. "You move and learn at your own pace, which is nice."
After more than a year of training, Hausman felt ready for the next stage of her roller derby experience. That meant one thing — tryouts.
—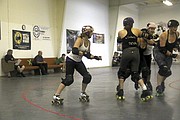 Hausman knew she was prepared for this moment. She knew the rules and the strategy.
She was ready.
Those moments of confidence soon disappeared.
Hundreds of skaters were on the rink or waiting to start.
Skaters both big and small zoomed by and Hausman had to calm herself before her name was called.

"It was scary," Hausman said. "The big tryouts, there can be 1,000 people there. I felt like I was so out of my league. People are watching me now. You get nervous."
Hausman earned a spot on the Thrill Kill Kittens.
That is one of roller derby's biggest draws — that anyone and everyone can play.
—
Independence resident Amanda Horne joined Cherry City on a spur-of-the-moment decision after seeing skaters in the Monmouth-Independence Fourth of July parade two years ago. She came in expecting to be turned away.
"I thought you had to be built like a linebacker and I'm 5-feet tall," Horne said. "I was surprised to see how the sport works tactically. I enjoy the strategy that goes into it."
Since Hausman first joined Cherry City, she said she's seen an increase in popularity and, she thinks it's easy to see why.
"It's life changing," Hausman said. "You need to lose weight? You got that. You want to make new friends? You have that. You want to be part of the community? You got that. This is one of the things that makes Salem and Polk County great."
—
Hausman's come a long way from her first days learning how to skate, including being named one of three captains on the Thrill Kill Kittens this season.
"It's empowering because I'm doing things I didn't think I could do," Hausman said. "I'm 37, but I'm in better shape now than when I was 20 and 120 pounds."
Hausman said she plans to continue playing at least until the age of 40. No matter how long she continues, roller derby has done more than given her a hobby. It's helped her become a more confident person throughout her life.
"I love the constant challenge," Hausman said. "I will be a bad ass. I'm slow at it, but I will be a bad ass one day."