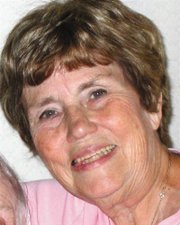 It was wonderful to see so many people at the Polk County Fair two weeks ago – and there was indeed something for everyone to enjoy. We ate corn on the cob and ice cream cones, and liked seeing the new changes at the fairgrounds. Watching the young people involved in 4-H and FFA gives everyone a positive feeling about what's good in our world. Unfortunately, the 6 o'clock news rarely showcases stories about these teens and focuses more on sensational stories of all the bad things that happen daily in the cities and small communities alike. Even in MI Town, it's not all sunshine and flowers — but seeing the accomplishments of many of our young citizens, I'm optimistic that our future is in good hands.
—
The summer concerts in Main Street Park in Monmouth just keep getting better and better, and what could be more fun on a summer evening than spending time with friends and family, listening to a variety of excellent entertainers. Tonight we'll all be entertained at 6:30 by a group known as Ramble On, a Led Zeppelin Tribute Band. Time is passing quickly, and these special summertime events will soon be over for another year. Thanks to everyone who has worked so hard to make Wednesday evenings so special for everyone in MI Town.

—
Tomorrow evening will be yet another great opportunity to see a movie — "Guardians of the Galaxy" at the Independence Amphitheater. The movie begins at dusk, and you're invited to bring a picnic supper and get settled in early.
—
The next River's Edge concert will be at 7:30 p.m. on Friday, when Chance McKinney will be at the amphitheater to bring everyone an evening of music and entertainment.
—
We're past the middle of August now and it seems like summer is flying by more quickly every year. Stores are featuring back-to-school clothes and shoes, and there are displays of pens, notebooks and paper everywhere you turn. Families are enjoying these last precious days of summer before the regular routines of school and homework begin.
—
Just around the corner is the Independence Hop and Heritage Festival, with the Ghost Walk already scheduled for Sept. 18. More information will follow as the days get closer.
—
We ordered season tickets and are anticipating our Western Oregon University Wolves' first home game at McArthur Stadium on Saturday, Sept. 12. Ticket information is available on the WOU website. Sitting in the stands on a sunny autumn afternoon, watching "our" college team play football is a great way to celebrate the beginning of a new academic year.