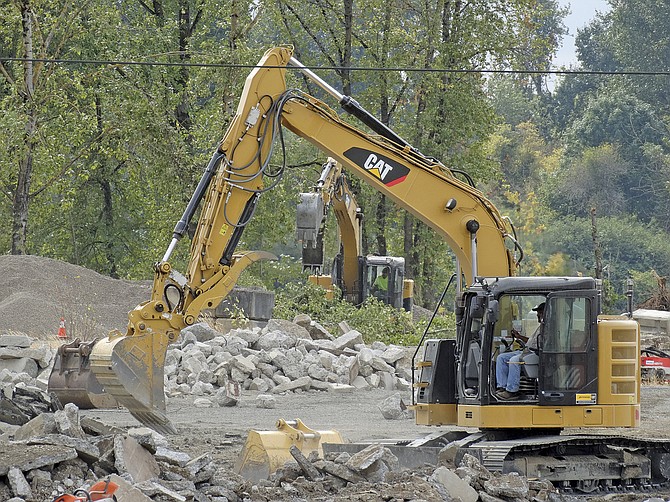 INDEPENDENCE — Some of the last remaining buildable land along the Willamette River is for sale, but not to just anyone.
The city of Independence bought the 20-acre parcel of riverfront land in December 2014 for $800,000 from Valley Concrete with the goal to sell it to a developer who would make good use of the property and allow public access to the nearly 2 and ½ miles along the river itself.
The city has done due diligence on the property, including geotechnical work, environmental studies and grading of the site, cleaning up the buildings left by Valley Concrete after they moved from the location. In total, the city has spent about $1.2 million on the property.
City manager David Clyne said he hopes the extra work will pay off in the sale and development, but part of that will be dependent on the marketing of the town and parcel of land.
"At the end of the day, we're still Independence, Oregon," he said. "We're sort of trying to create the magic that we know to be true, but developers in Portland might not know. We're selling the magic of Polk County and Independence."
To help find the right person for the job, the city hired Leland Consultants to help market the property.
It's sort of like a dating game in that Leland Consultants will issue a request for qualifications, encouraging developers to submit a sort of resume before negotiations even begin.
Once the RFQs are in, the city can decide who they want to do business with.
Clyne said at the Aug. 11 city council work session that the RFQ process is more generic than a request for proposal process, which would require developers to submit specific plans — which costs them more money up front.
City councilors were pleased with the idea of getting to review interested parties before money was on the table.
Councilor Jerry Hoffman said whatever happens on this parcel of land will change the face of Independence.
Councilor Nancy Lodge asked if the city will emphasize sustainable building practices. Other councilors were wary of putting too much emphasis on sustainability because of lessons learned working with Steven Riebero and his failure to build the LEED Platinum building, Independence Station.
One of the things the city is trying not to do through the sale of the Valley Concrete site is have someone come in and partially complete development along the riverfront.
The RFQ will go out in mid-September.
Councilors will review applications before Thanksgiving. The sale of the property is expected to be final before the end of the fiscal year, June 30, 2016.