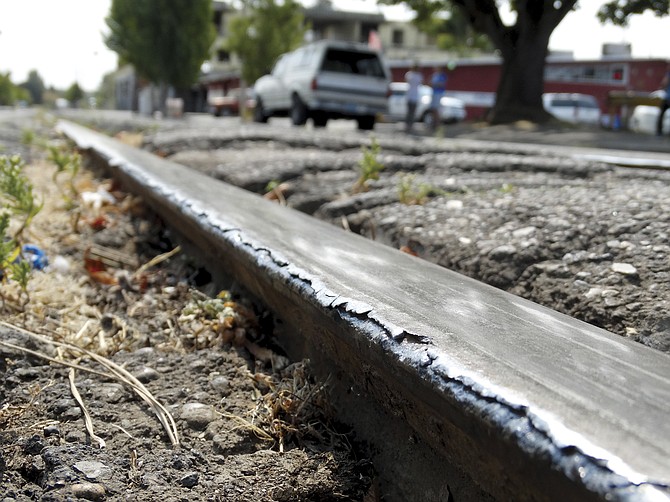 INDEPENDENCE — Mike Danko didn't think he'd ever see the day when the railroad tracks on Second Street would get refinished.
"I've been working to improve that railroad (track) for the whole 25 years I've been here," Danko said.
After requests from Independence city councilors dating back 100 years, and the time Danko has spent cultivating relationships with directors at the Willamette & Pacific Railroad, construction will begin Wednesday (today) and continue through the weekend.
The work should be completed by Monday or Tuesday, Danko said.
It will mean detours around the Monmouth and Second street intersection, but Danko said he hopes it doesn't cause too much impact on downtown businesses.
"This area (downtown) will be open to local traffic," he said. "We're going to provide a right-hand turn onto Second Street (from C Street), just one lane so you can go down to B Street. There will be a little impact, but hopefully it won't be too bad."
Part of the 100-year delay on the project was that, in general, railroad owners don't care about the condition of the street crossing the rails.
"They run a pretty fixed maintenance budget every year, and they're really tight," Danko said. "They don't care if the railroad (tracks) looks bad, they just want it to be safe (for trains)."
But the two-block stretch of road was not safe for bicyclists, wheelchairs — even cars.
"People have split their tire on the rail a number of times," Danko said.
The current rail managers see and understand the problem, he said, adding that they are more willing to work on projects.
The city is partnering with the railroad, providing traffic control and three dump trucks — complete with drivers — to help haul the debris away.
Willamette & Pacific will replace the rail while repairing the road, digging down about 18 inches to rebuild the sub-base and base of the track.
"It will be pretty much brand new," Danko said. "It should last quite a while when they're done."
It's the last of a string of improvements made over the years, starting with signals on Stryker Road, Polk and Williams streets.
Drainage improvements have been made around the rail in areas around Fourth Street and old town, Danko said.
Although trains will be legally — and, after the improvements, structurally — able to travel at 45 mph through town, Danko said they won't because the entire four-block area downtown is considered one giant crossing.
"They don't consider it safe," he said. "People could be on the track."