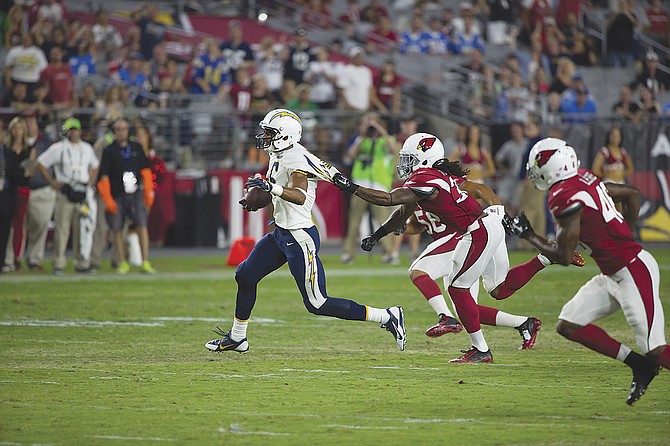 SAN DIEGO — To an outsider, Tyrell Williams' catch in the fourth quarter of the San Diego Chargers' preseason game against Arizona was just another statistic.
To those who saw his one-handed grab, it was Williams' first highlight as an NFL player.
"The quarterback signaled to convert my route to a fade," Williams said. "From there, you're playing football one-on-one. I could only get one hand up and I just tried to bring it down any way I could."
Since signing with the Chargers as an undrafted rookie, the Western Oregon graduate has studied plays, and worked to stand out in training camp.
Now, he hopes to secure a spot on the Chargers' final 53-man roster.
Currently, Williams is listed fourth in the depth chart at WR1 on the Chargers' team website behind Keenan Allen, Dontrelle Inman and Titus Davis (San Diego has WR1, WR2 and WR3 positions). There are 10 receivers on their roster as of Monday evening.
The Chargers kept six receivers on their 53-man roster in 2014, meaning four receivers will likely be cut between now and the regular season.
"It's definitely competitive," Williams said. "We're all helping each other, though. The older guys are helping the younger guys so much. No one is stand-offish trying to get the upper hand. Everyone is real nice. You can feel the competition but we are all there to help the team win. If we win, we all did our jobs and the coaches will make the right decision when the time comes."
Facing a battle to make the active roster, Williams recorded three catches for 36 yards against Arizona in preseason action on Sunday. The Chargers rested many of their starters, but Williams, who made a one-handed grab along the sideline, hopes that performance will show how he is improving.
"My route running and technique (have improved)," Williams said. "I used my speed and size pretty easily in college and that helps in the NFL, but if you don't have the technique, you won't get open. I've focused on getting the little things right and things like blocking to try and catch the coaches' eyes."
Williams' performance against the Seattle Seahawks in the Chargers' third preseason game could go a long way in determining his chances to make the final roster.
"I'm feeling pretty confident about that," Williams said. "I'm doing what I'm asked to do and getting better every day. All I can do is control what I can."
Life in the NFL is a bit different than his time at WOU. Much of Williams' free time is spent going over the playbook and preparing for the next practice instead of going to classes or hanging with friends; but that is exactly where Williams wants to be.
"Seeing the differences between (San Diego's) training camp and (Western Oregon's) has been crazy," Williams said. "But this is a dream come true and it's helped me appreciate where I came from."
Check out this link to see Williams' one-handed grab: https://twitter.com/FFMetrics/status/635541765299269632