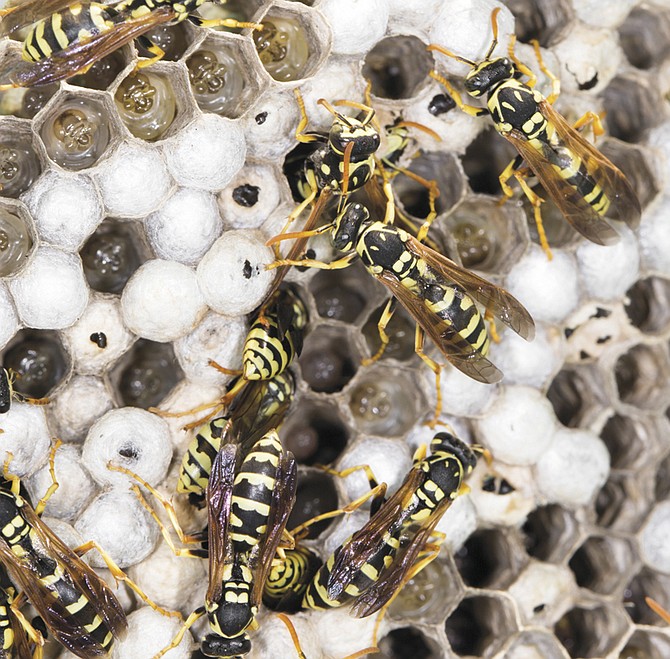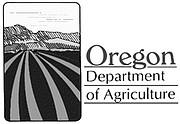 Many Oregonians who have dined outside lately can attest to the fact that yellow jacket activity is starting to pick up. A hot summer may be at least partially responsible for increased visibility of the stinging insect. The Oregon Department of Agriculture emphasizes that yellow jackets are not the same as honeybees and bumblebees, and any action taken by homeowners needs to take that into account.
"We've been receiving complaints from people who are just trying to eat an outdoor meal and are unable to do so because of the yellow jackets," says ODA entomologist and pesticide expert Rose Kachadoorian. "The yellow jackets are just so quick and aggressive."
Yellow jacket activity in Oregon happens every late summer and fall. But this year, conditions are a bit different.
"We've had a lot of hot weather," says Kachadoorian. "Yellow jackets largely feed off of smaller insects. Normally there can be a lot of insects feeding on grasses and other vegetation that usually would be green. Plants may be dried and brown and, in some areas, there could be a reduction in the yellow jackets' food supply. As a result, yellow jackets might be foraging in areas they normally don't go into and maybe they are being a bit more aggressive."
There is a big difference between wasps or yellow jackets and the common bees still busy pollinating this time of year. Honeybees and bumblebees are not the ones coming after your dinner plate.
Wasps and yellow jackets are producing queens that will be overwintering, so they are in search of protein-rich food. Most likely, there's a yellow jacket nest within a quarter of a mile of your home if the unwanted dinner guests show up. Those nests can be in the ground, under an eave, or inside a crack in a rock wall.
Homeowners may be tempted to do something about annoyingly aggressive yellow jackets. A key for any pest problem is proper identification. Yellow jackets are heavy-bodied and distinctively striped yellow and black. Wasps, which have similar coloring, have a small connection between the thorax and abdomen. Both don't make as much of a buzzing sound as the honeybee.
Measures directed at a wasp or yellow jacket problem should stay clear of negatively impacting honeybees and bumblebees. There are steps homeowners can take and there are steps they definitely should not take. Spraying a pesticide product on flowers or plants won't do anything to control yellow jackets and wasps but will cause great harm to bees who are still looking for nectar and pollen.
Another option to at least slow down some of the yellow jacket activity is to purchase and erect traps that contain a bait to lure the insect. Once inside the trap, they don't escape and eventually die.
"Don't place traps too close to where you will eat, but around the perimeter of your yard," says Kachadoorian. "If you know you are having a backyard meal or event, you can plan ahead and use a number of these traps. It's best to get the traps out earlier in the year to attract the queens. But even this time of year, it's worth a try to use the traps."
While these non-toxic traps contain a synthetic lure to attract worker yellow jackets, meat or wet pet food is often used to enhance the attraction.
The yellow jacket season will probably last for at least several more weeks if not months. Normally, the workers die out in October and November while the queen mates with a drone and looks for a place to overwinter. Whether the extended hot and dry conditions have an impact on the timing of yellow jacket activity remains to be seen.
With the threat of a painful sting and the nuisance of having them hang around your food, it's easy to forget that yellow jackets and wasps can also be beneficial insects. As predators, they will feast on caterpillars or insect life stages that might otherwise harm plants and crops. That probably counts for very little when your outdoor feast is interrupted by an unwanted dinner guest from the insect world.
For more information, contact Rose Kachadoorian at 503-986-4651.