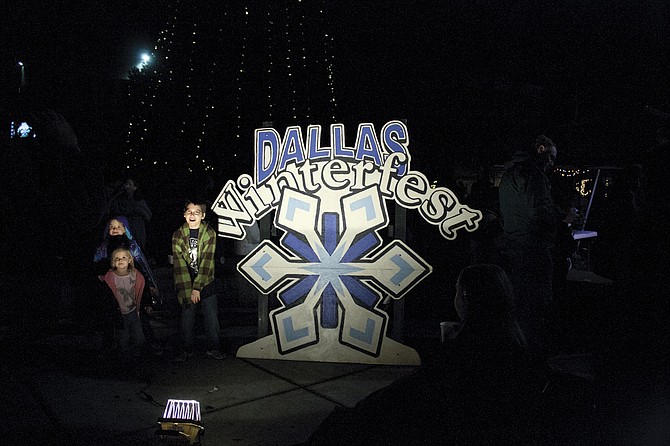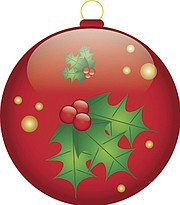 POLK COUNTY — Ah, December, when the air turns crisp, the turkey leftovers are in the freezer, and our thoughts officially turn to Christmas.
To kick off the spirit, each town will host its Christmas celebrations, beginning Friday.
DALLAS
What says Christmas more than hot cocoa, caroling, cookies and Santa Claus? Winterfest, held each year at the Polk County Courthouse lawn in downtown Dallas on the first Friday in December has all of those and more.
After having to cancel the event in 2013 due to a little too much winter — snowy and icy conditions — Winterfest, 2014 had a large crowd of at least 1,700 people.
"Three hundred and fifty kids saw Santa last year and the weather was perfect," said Chelsea Metcalfe, the executive director of the Dallas Area Visitors Center, which is hosting Friday's festivities.
Winterfest will officially kick off at 5 p.m. with vendors for Christmas shopping and hot cocoa and cookies while supplies last. But before that, several food truck vendors will be downtown starting at 11 a.m.
Metcalfe said the city had to close off parking for the event early in the day, so the food vendors might as well open for the lunch hour.
"We are hoping people will come down for lunch and come back for dinner," Metcalfe said.
People will have plenty of choices for both, as Black Rock BBQ, JT's Food Truck, El Pique, The Boondocks, and Sweet Dreams will be open until 7 p.m.
Not to be left out, the Fox Theatre is getting in on the fun, showing "A Christmas Story," at 4 p.m. After all, it's not Christmas without hearing "You'll shoot your eye out!" at least once.
You can see Ralphie and friends' shenanigans for free with a canned food donation.
The main event — Santa lighting the tree on the courthouse lawn and visiting with all the good little boys and girls — will happen a bit earlier than years past. The Jolly Old Elf will arrive at about 6:15 p.m.
"He will stay until everyone is seen," Metcalfe said.
FALLS CITY
Now in its fourth year, Falls City's Christmas tree lighting event kicks off the Christmas season with some old-fashioned holiday spirit on Saturday.
This year, the tree, donated by Weyerhaeuser and lighted by PP&L, will be in the lot between Mountain Gospel Fellowship Church and Frink's General Store, 319 N. Main St., Falls City.
The gathering begins at 6:30 p.m. with music, homemade treats, hot chocolate and coffee.
At 7 p.m. the tree will be lit.
Organizer Tony Drill said the tradition started in an effort to bring more people downtown during the winter season. It's working. Last year, the tree lighting drew at least 150 people.
"It's a community event to bring everybody out," Drill said. "When winter comes around, it gets cold. This gives them a reason to come and hang out."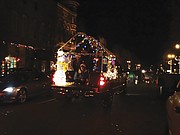 INDEPENDENCE
For the last five years, Santa Claus has come to visit children in Independence via Portland & Western Railroad.
Last year, free presents and treats were given to 1,134 kids who came to the Independence Cinema to sit on Santa's lap, who has used the same antique chair, courtesy of the Heritage Museum, each year. This year, organizers expect closer to 1,500 children.
"We're giving to the kids who need it the most," said Cynthia Jaramillo, organizer of the annual event.
Too many families in Independence are below the poverty line, she said.
"I couldn't fathom the idea that there were an estimated 3,000 children out there who weren't going to have a Christmas," Jaramillo said. And that's when the Santa train was born.
Kids and families patiently wait in line for their turn listening to Christmas music by Miki's WildOne's Karaoke, while people from Grove Church's coffee house dispense hot chocolate from a backpack. Candy canes and popcorn will be served in line this year, too.
The event takes place from 1 to 3 p.m. on Saturday at Independence Cinema, which will host movie deals during that time.
At 5 p.m., the Parade of Lights will commence from Central High School, down to Main Street and finish at the Independence Civic Center, where treats will be served and songs may be sung.
This year's parade theme is "A Hometown Holiday," said Robin Puccetti, Independence Public Library director. The Independence Downtown Association, organizer of the parade, is still accepting floats.
The trick to making a float? It's all about the lights, Puccetti said.
MONMOUTH
On the other side of the S Curves, Western Oregon University is the center of attention with celebrations starting Friday at 6 p.m.
Things kick off with a holiday parade from Monmouth Public Library to WOU's campus. This year's theme is "Shining Brightly."
New WOU President Rex Fuller will speak after the parade, followed by the grand lighting of the tree.
After the winners of the coloring and essay contests, the writer of the winning essay will push the plunger that lights the 128-year-old Sequoia tree near the Werner University Center.
Inside Werner, Christmas comes alive with music, a cookie bakeoff, crafts for families — sponsored by the WOU athletics department — a Christmas tree contest and, of course, pictures with Santa Claus himself.
"Over at Gentle House, we'll be having Wine, Warmth and Music," said John Wilkins, coordinator for Campus Life and Activities. "The vibe is for those folks seeking something different than what Santa and arts and crafts brings."
Christmas trees in the contest will be donated to local families in need through Toys for Tots, Wilkins noted.
The cookie bakeoff is open to community submissions, but be aware that if you want to be a guest judge, the samples go fast.
There is no official end time to the 48th annual Holiday Tree Lighting, Wilkins said.
"Last year we went until 10, but there's a little bit of flex time with that," he said. "Sometimes it depends on Santa. We really try to work with Santa and be respectful of his time."
Deck the Halls
DALLAS
What: Winterfest
When: Friday 5 to 8 p.m.
Where: Polk County Courthouse lawn, 850 Main St., Dallas.
Of note: Food trucks will be open at 11 a.m. for lunch and will serve for dinner until 7 p.m.
For more information: 503-623-2564.
FALLS CITY
What: Christmas tree lighting
When: Saturday at 6:30 p.m.
Where: Lot between Mountain Gospel Fellowship Church and Frink's General Store, 319 N. Main St., Falls City.
Of note: Homemade treats and hot chocolate and coffee will served to take the chill out of the air.
INDEPENDENCE
What: Independence Santa Train and Parade of Lights.
When: 1 to 3 p.m. on Saturday for Santa; 5 p.m. for parade.
Where: Santa will arrive by train at Independence Cinema; the parade begins near Central High and ends at the Civic Center.
Of note: Independence Cinema will provide special prices for movies between 1 and 3 p.m., as well as give out popcorn for those in line to see Santa.
For more information: www.independencedowntown.org or on Facebook, "IDA parade of lights."
MONMOUTH
What: Western Oregon University's 48th annual Holiday Tree Lighting.
When: The light parade begins at 6 p.m. on Friday.
Where: Western Oregon University, Monmouth.
Of note: A combined choir from Talmadge Middle School, Independence and Monmouth elementary schools will perform after the tree lighting in the Pacific Room.
For more information: Or to enter the cookie bakeoff, John Wilkins, 503-838-8229 or wilkinsj@wou.edu.