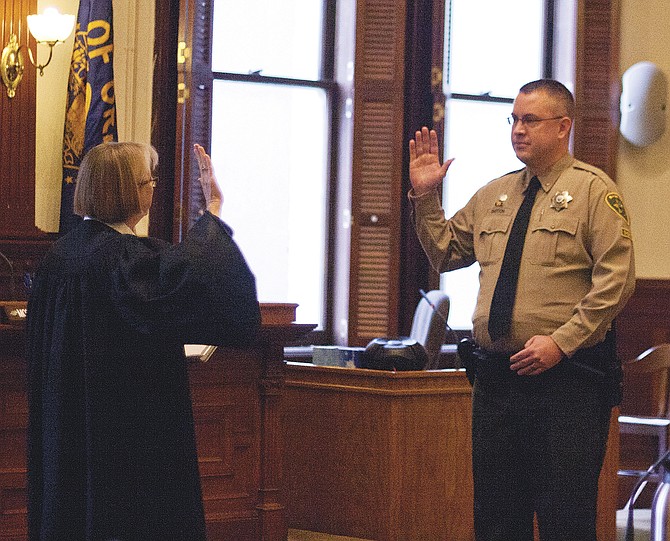 Santa train, parade of lights Saturday
The Santa train will come to the Independence Cinema from 1 to 3 p.m. on Saturday.
The event, sponsored by the Independence Elks Lodge, Independence Downtown Association, and Friends of the Independence Library, will include gifts and candy for all children younger than 12.
Santa will be available for photos. Hot chocolate will be served.
The Parade of Lights will be at 5 p.m. starting at First Baptist Church, down Main Street, through downtown Independence, and finishing at the Independence Civic Center.
Annual holiday tree lighting Friday
The 48th annual Holiday Tree Lighting at Western Oregon University will be at 6 p.m. on Friday on campus at the giant Sequoia tree near Campbell Hall.
The event includes a holiday parade at 6, followed by indoor programs at 7. A tree decorating contest, pictures with Santa, choir performances by elementary school students and a cookie bake-off are highlights of the evening.
Dallas Winterfest hosts Santa Friday
Dallas Winterfest will be from 5 to 8 p.m. on Friday on the Courthouse Lawn.
The event will feature a visit by Santa Claus, lighting the Christmas tree, caroling, hot cocoa and cookies.
Food trucks will be in the area from 11 a.m. to 7 p.m. Businesses will be open later to accommodate shoppers.
The event is sponsored by the Dallas Area Visitors Center.
For more information: 503-623-2564, or www.dallasoregon.org/Winterfest.
Get a IHRC giving tree tag at library

A holiday giving tree to benefit the residents of Independence Health and Rehabilitation Center will be at the Independence Public Library through Dec. 16.
Descriptions of items needed are printed on the decorations on the tree. Visitors may select a decoration or two, purchase the items and return them unwrapped to the library front desk.
Gifts will be wrapped and delivered to the center for the holiday celebrations.
For more information: Liane Moser, 503-838-2240.
Gift cards will help deployed soldiers
The Oregon National Guard Association is collecting gift cards for the neediest families of deployed Oregon National Guard soldiers.
Gift cards for groceries, toys, clothing stores or gasoline greatly help families in need who live all around the state.
To help, send gift cards to: Oregon National Guard Association, P.O. Box 14350, Salem OR 97306.
Trinity Lutheran to hold concert series
Trinity Lutheran Church in Dallas will kick off its December Concert Series Sunday with "Festival Carolers."
The concert will be from 6:30 to 7:30 p.m.
Festival Carolers singers, dressed in Victorian costume, will be lead through a series of classic yuletide songs by director Soleveig Holmquist.
Cookies will be served following the concert.
For more information: 503-623-2233.
Dallas Library seeks 'Mitten Tree' gifts
The Mitten Tree at the Dallas Public Library needs your warm donations. Now through Dec. 20, patrons have the opportunity to decorate the tree with mittens, scarves and warm hats. Items will be donated to Dallas Christmas Cheer and the Dallas Resource Center to help those in need.
The library also is collecting new children's books — toddler board books, picture books and juvenile chapter books — to donate to Christmas Cheer. In addition to mittens and books, the library is a donation site for the Dallas Food Bank.
For more information: 503-623-2633.
Library to host a 'Coloring Night' out
Miss coloring books? Dallas Public Library has just the thing for you: "Coloring Night for Adults" on Thursday from 5 to 7 p.m.
Coloring has been shown to relieve stress and promote creativity in adults — and guess what else? It's fun. No supplies are necessary. The library will provide free coloring pages, colored pencils and pens, and cookies and tea to snack on.
For more information: 503-623-2633.
'Soup Bowl' dinner, auctions Thursday
Dallas High School's art department is holding its 16th annual Soup Bowl Dinner, Auction, and Art Show on Thursday.
The event will take place in the DHS Forum, with dinner served between 5:30 and 6:30 p.m. A variety of soups will be offered, and they are all you can eat. The soup is free once you buy a handcrafted ceramic bowl, made by DHS art students, for $10.
Diners then can bid on items in the silent auction. All proceeds benefit the art department.
For more information: 503-623-8336.
Dallas FFA selling Christmas trees
Dallas High School's FFA program will be selling Christmas trees at the Dallas Rite Aid parking lot, 178 W Ellendale Ave. until Dec. 20.
Lot hours are Monday through Friday, 4 to 7:30 p.m., Saturday 10 a.m. to 7:30 p.m. and Sunday 11 a.m. to 7:30 p.m.
Tree prices are: Douglas fir — $3 per foot; Grand fir — $4 per foot; and Noble fir — $5 per foot.
For more information: 503-623-8336.
Salem Community Chorus to perform
Salem Community chorus will perform its annual concert of Christmas music on Sunday at Christ Church in Monmouth, 412 Clay St. W., at 3 p.m.
Directed by Anna Robinson, the 60-member choir will perform classics ranging from "Jesu, Joy of Man's Desiring" to "The Grinch."
Admission is free, but donations are welcomed and will benefit Christ Church and choir projects.
For more information: 503-838-3777.
Help Baby Jacob and his siblings
The Independence Elks is hosting a spaghetti dinner and toy drive benefitting Jacob Anderson and his siblings Saturday.
Christmas Spaghetti Dinner Extravaganza is a fundraiser to assist Jacob, who is battling hypoplastic left heart syndrome, and his family. Dinner is at 5 p.m. and admission is $10.

The event will feature a spaghetti and salad dinner with dessert, a 50-50 raffle, Santa raffle and live blues music.
People are asked to bring an unwrapped toy for Jacob's four siblings: a 4-year-old sister, two 8-year-old sisters, and a 12-year-old brother.
Tickets can be purchased at the lodge, 289 S. Main St., Independence or by contacting 503-931-6968 or 503-522-3062.
MICC forum hosts Toys for Tots
The Monmouth-Independence Chamber of Commerce December forum will be a chance to assist Toys for Tots in helping ensure families in Monmouth and Independence have a happy holiday.
Participants will help package items for delivery to local families. Attendees are encouraged to bring a toy to donate to the drive.
The forum is from noon to 1 p.m. on Wednesday at Toys for Tots, 535 G. St., Independence.
For more information: 503-838-4268 or www.micc-or.org.
MPCCP share how to care for stray cats
The Marion Polk Community Cat Program will host a meeting from noon to 1:30 p.m. on Saturday at the Willamette Humane Society, 4246 Turner Road SE, Salem.
Attendees will learn the truth about common myths about community cats, including hard topics like cats and wildlife, and why Trap Neuter Return is effective to humanely control cat overpopulation.
A tutorial will be given to build a feral cat den, as well as instructions and limited supplies to build a den.
Snacks will be provided.
For more information: ccc@whs4pets.org, or 503-585-5900, ext. 313.
Eat spaghetti for FCH Mountaineers
A spaghetti feed and bingo night will support Falls City High School's girls basketball team.
The event is from 3 to 6 p.m. on Saturday at the community center in Falls City.
There will be bingo, all-you-can-eat spaghetti, salad, bread, and a silent auction.
Prices are $5 for adults, $4 for kids aged 5 to 9, $3 for kids 4 and younger, or $25 for a family, which includes parents and kids only.
Bingo cards will be 50 cents each or three for $1.
The silent auction will end at 5:30.