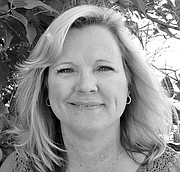 Johnstone wants to hear from you
As we approach the Thanksgiving holiday, let's start with what we have to celebrate. First, we are very excited that Trenda Locke, PE Teacher at Lyle Elementary, was selected Distinguished Educator for October. Trenda is passionate about kids.
From a student's point of view, "she is our good luck teacher." Thank you, Trenda, for all of your hard work!
Secondly, hopefully you were able to attend the recent high school play, "Oliver!"
The performance combined students from LaCreole Middle School and Dallas High School. It was impressive. Thank you students and staff for all of your hard work.
Thirdly, Dallas Education Foundation just awarded 21 grants totaling $6,350, with $2,500 coming from Dallas Community Foundation.
Thank you to these organizations for their generous support.
Once again, each of these celebrations involves our staff, community, and parents, and I am grateful to you for your support of our programs, in ultimate support of our students.

In my last note about the district, I mentioned our "coffee conversations," and I have to say these talks have been a high point for me.
The common theme throughout our discussions has been a focus on career and technical education (CTE), as well as science, technology, engineering, and math (STEM) programming, and specifically the need to increase learning opportunities in these areas for our students. In fact, one of the bond projects will be remodeling the shop at Dallas High School.
In the coming days we will look to gather additional thoughts from our students, families, and communities.
Thanksgiving is one of my favorite times of year.
I am very thankful for the opportunity to live in and serve the Dallas community, and I want to be sure to connect with all parties in a meaningful way.
In hearing requests for evening opportunities to meet with parents who are unavailable during the day, I will be attending both the Lyle and Oakdale PTC meetings at these schools.
The Lyle meeting is Dec. 8 beginning at 6:30 p.m., and the Oakdale meeting is Dec. 10 beginning at 6:30 p.m. I look forward to the opportunity to hear your thoughts.
Michelle Johnstone
Dallas School District Superintendent
Garden a success, thanks to support
I would like to take the time and thank everyone that has taken their time to help and support the Dallas Youth Garden. It has been a great pleasure to work at the garden and know the produce goes to families in need in Dallas. It is a great way to learn new skills and work with other Dallas High School students.
We have finished our summer season and we had a lot of help. The Master Gardeners helped us greatly giving us starts to plant. Some of the Master Gardeners and other supervisors have put in a good amount of time to help each intern successfully grow their gardens.
This year the Dallas Youth Garden has grown over 4,700 pounds of produce.
It has been a struggle for all of the interns to successfully do so caused by the summer's high temperatures. Rationed watering only three days a week sometimes made it difficult to give the plants the water they need. Through the hard work, we managed to work against the weeds as well as the bugs.
It is great to know that we have supporters including Polk County 4H Extension, Dallas Community Foundation, Trinity Lutheran Church, Polk Co. Family and Community Outreach, Dallas Rotary Club, the city of Dallas, Dallas Lions Club, Dallas Service Integration, Dallas High School and many local business and individuals.

We not only learned skills for ourselves but helped many families that are in need and live in the Dallas area. So thank you to an amount that cannot be measured, for all of the support and donations made toward the Dallas Youth Garden.
Stephanie Cutler and Dean Anderson
Dallas
Garus thinking of children's privacy
Mr. Garus' comments are spot on. All individuals need to step back and think about what he has stated, then it will make sense.
If I was the parent of young girl in public school, I would be upset with her being exposed to the sight of a naked male who identified as being transgendered being allowed to use the restroom/shower facilities in school. I don't care how politically correct it is to allow our transgender youth to use the facilities they identify with, but there comes a point that we don't want to expose our youth to the naked attributes of the opposite sex; regardless how they identify, they are still the sex they are born with.
Question: How do you make sure that some horny young male or female who is curious as to what the opposite sex looks like naked, states that they are transgendered just to use those facilities of the sex they identify with?
Before you say this will never happen, you need to stop and realize this will happen because by law you can't question their orientation, right?

Before we decide that a council member is a bigot and holds an unpopular belief, just stop and see how you would feel if you're placed into that situation as an adult trying to protect your children.

Jimmy Christensen
Independence
Thankful for CHS Thanksgiving
Senior citizens who attended the Central High School Thanksgiving lunch on (Nov. 25) have another reason to be thankful. The students and staff graciously cooked, served and entertained us, including prize drawings! It's always a pleasure to see and hear Jeff Witt with the Main Street singers. Thanks to all who hosted this event.
Carol Busby
Monmouth
Warm welcome at CHS for holiday
On the day before Thanksgiving, my wife, Sherry and I, along with a lot of senior citizens, had a marvelous dinner at Central High School. We also had the pleasure of hearing a fantastic music program presented by the Central High Main Street Singers.
Now I am in my 80s and I know a lot of words, but all of these words cannot express my delight of what was presented to "oldies but goodies" on that day.
What a pleasure and godsend it is to have the backing and love expressed by all of those that participated in this endeavor.
May I, and I speak for all those that attended, express my thanks to the students and faculty of Central High School for what you provide to our senior community.
Jack M. Hinkle
Monmouth