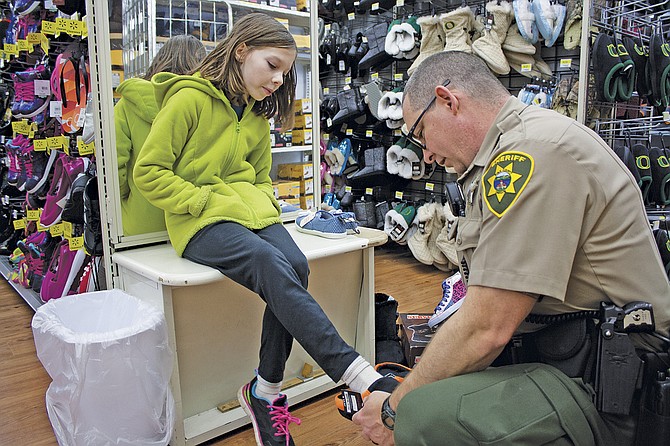 Painting, poetry at family art class
Ash Creek Arts Center will host Second Saturday Family Art Class from 2 to 4 p.m. on Saturday at its building, 311 S. Monmouth St., Independence.
The class will teach children and their families how to paint and write poetry. Children should be old enough to manage scissors, glue, tape and other art supplies. All family art classes are free.
Registration is not required.

Guthrie Park hosts Christmas Sounds
Guthrie Park Community Center will host its 28th Annual Sounds of Christmas Program Friday at 7:30 p.m. at its building, 4320 Kings Valley Highway, Dallas.
The event is free. Donations are welcome.
The program will feature music from Cooper Hollow and Cash & Company, raffles, a visit from Santa Claus and a Christmas Sing-a-long after the show.
Seating is limited. Doors open at 6:45 p.m.
For more information: www.guthriepark.org.
Holiday dance at local civic center
The Dallas Area Seniors will host a holiday dance from 7 to 10 p.m. on Friday at the Dallas Civic Center, 945 SE Jefferson St.
Cecil Maginn will host the musicians. Cost is $5, which goes toward the senior center.
For more information: Dallas Senior Center, 503-623-8554.
Potluck to feature Christmas choirs
Ash Creek Christian Academy in Independence will entertain people at the monthly potluck at the Monmouth Senior Center at noon on Friday at the center, 180 S. Warren St.
Ham and turkey breast are on the menu. Participants are asked to bring something to share.
For information: 503-838-5678.
Old-time squares at Guthrie Park
Guthrie Park Community Center will host its second-Saturday old-time square dance from 7 to 10 p.m. on Saturday at the center, 4320 Kings Valley Highway, three miles south of Dallas.
The dance is open to all. Live music will be by Cash & Company.
Cost is $5 per person or $15 for a family of four or more. Children 12 and younger are free.
For more information: Sally, 503-623-0809.
Christmas pizza party for children
Child Evangelism Fellowship will host a free pizza party for children aged 5 to 12 with games, songs and the true story of Christmas Saturday from 1 to 2:30 p.m. at Abby's Pizza in Dallas, and at Mendi's Pizza in Independence. Children will get free pizza.
For more information: Jennifer, 971-209-8800.
FSD recital is at Talmadge Tuesday
The Polk County France School of Dance's annual food drive and dance recital will be at 6 p.m. on Tuesday at Talmadge Middle School, 51 16th St., Independence.
Students ages 4 through teens will perform tap, ballet, pointe, lyrical, jazz and hip-hop routines.
Admission to the performance is three cans of food or a $3 donation. All food proceeds benefit Joan Schmitt's Children fund. Money donations benefit Dallas Food Bank.
For more information: 503-390-3481, or online at www.FSODance.com.
Dallas Fire & EMS to hold open house
Dallas Fire and EMS has a remodeled entry way and is holding an open house and ribbon cutting Friday to show it off.
At 10 a.m., coffee and refreshments will be served. The rededication ceremony will begin at 10:30 a.m. at the fire station, 915 SE Sheldon St., Dallas. Dallas chaplain Dave Pederson will give the invocation.
For more information: 503-831-3530.
Shakespearian actors at CHS
As part of the Central High School partnership with the Oregon Shakespeare Festival, two actors will present at 7 p.m. on Wednesday (today) at the high school auditorium.
The event is free, but donations will be accepted at the door for the CHS travel fund, which helps students go see performances in Ashland.
For more information: www.osfashland.org.
Religions discussed at Dec. 20 forum
St. Thomas Episcopal Church will sponsor the "Religions of Abraham" Dec. 20 at 6 p.m. at the church, located at 1486 SW Levens St.
Dr. Allen Fromherz, Director of Middle East Studies and Professor of History at Georgia State University will talk about the three major faiths that were present in medieval Spain and Portugal: Christianity, Islam and Judaism.
Rebecca Fromherz, the church Music Director, arranged the talk. Rebecca and Dr. Fromherz are siblings and were born and raised in Dallas.
Dr. Fromherz was recently selected as a Senior Humanities Fellow at NYU Abu Dhabi for the spring of 2016, when he will complete work on his latest book, "The Global Gulf, A History."