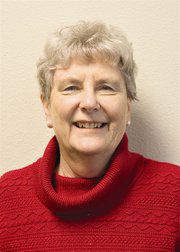 The Pedee Campus of the Luckiamute Valley Charter School had three students on the honor roll this term. Eighth-grader Enrique Beruman, and seventh-graders Krista Cook and Lindsey Harris all got straight As. The kids will be selling canned goods at the school on Dec.15 and 16 from noon to 3 p.m. They still have pickled green beans, pear and apple sauce, and pear butter.
—
Steve and Audrey Cameron, son, Clayton, and his son, Noah, and daughter, Stephanie, and her daughter, Ana all went to Clackamas to watch son James' production of "Once on an Island" at Clackamas High School where he teaches drama. Everyone enjoyed the musical and the little kids got lots of autographs from the actors.
—
On Thanksgiving, Steve and Audrey travelled to Milwaukie to celebrate Thanksgiving with son, James, and Jenny and Eliana and Jenny's family members. It was a beautiful sunshiny day, and they arrived home before the icy roads appeared. They spent Friday at Stephen, Stephanie and Ana's farm watching the Civil War game between the OSU Beavers and the U of O Ducks. They enjoyed eating Thanksgiving leftovers and Stephanie's first attempt at turkey soup, using an old family recipe passed on from her mom.
—
Dave and Suzanne Burbank also had their family over for the game, and were pleased at how well OSU did against a team that was expected to trample them. Derek was there, as well as his fiancee, Ashley Grucza, and her parents, Scotty and Tina Grucza, from Turner. Derek and Ashley had come over some dicy roads to get there from Redmond.
—
Saturday, Nov. 28, was the grand opening of King's Crossing Coffee Shop at the old Kings Valley church building a few miles down Highway 223, run by the students at Kings Valley Charter School, and it was quite a hit. The room was inviting, the coffee, tea, cocoa and goodies exceptional, and the crowd happy. There were also Christmas trees for sale at the front door and several vendors inside. The shop will be open from 10 a.m. and 2 p.m. every Saturday at least until the end of school. KV students working last week were senior Levi Bault and juniors Glenn Mott and Brady Tarvin, of Pedee, senior Ryan MacNab, of Dallas, and seniors Becca Barnhart and Tanner Simmons, of Kings Valley.
—
Acoustic guitarist Ron Diller will be in concert at Pedee Church on Sunday Dec. 13, at 6 p.m., so gather your loved ones and friends for a special evening of Christmas music.
More like this story