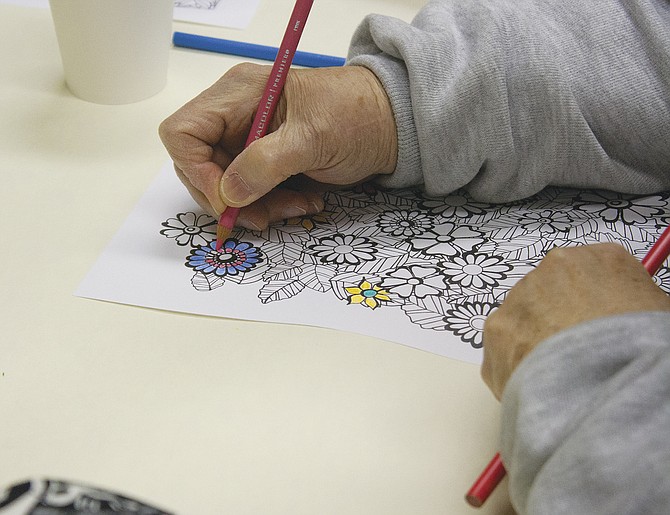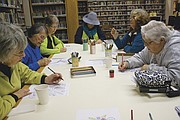 DALLAS — More than 20 people gathered at Dallas Public Library Thursday night to do something that more than a few of them hadn't done since childhood: coloring.
Yes, as in coloring-book coloring.
The library hosted the first of what could become a monthly event, "Adult Coloring Night," jumping on a national trend where adults enjoy what was until relatively recently considered an activity just for kids.
"I read about it, and other libraries are doing it," said Janice Ames, library assistant. "A lot of them are doing it every month. There's a lot of research about how relaxing it is and how it reduces stress."
Paired with tea and cookies, coloring did seem to have a calming influence.
Quiet conversations at tables drifted from current events to personal lives, to what color to choose next on coloring projects.
"It's very popular today. I'm very glad the library is doing this," said Madison Rothchild, an art instructor who teaches classes at retirement centers. "There's something about it that's freeing because there's no competition."
No artistic talent is needed, just a sense of what colors will complement each other added Dallas resident Susie Futrell, who was trying the art for the first time.
"There's no right or wrong," Futrell said. "If I want to color this blue, I can."
It wasn't only seeing the popularity of "coloring nights" at other libraries that prompted Ames to make the suggestion the library host its own to Dallas Library Manager Mark Greenhalgh-Johnson.
Ames said Dallas offered coloring books and pencils as prizes for its adult summer reading program.
"It was a pretty popular prize," Ames said. "That was a good indication."
Greenhalgh-Johnson had to do some hunting for supplies for the evening's event. Arts and crafts stores stock plenty of coloring books with more intricate designs for adults, but pencils were more difficult to find.
"When I went to Michaels to buy pencils, they only had a few and, 'We can't keep them in stock,'" he said.
He said before the beginning of coloring night he wasn't sure how many people would show up, but Dallas seems to be following the trend with plenty of people showing interest in the event.
Ames noted the turnout was especially good because December tends to be a busy month for most people.
With the positive response from Thursday, the library's already scheduled a second coloring night on Jan. 14 from 5 to 7 p.m.
"It's nice to have something for adults to do in town," Ames said.
Stress reducer
What: Coloring Night for Adults.
Where: Dallas Public Library, 950 Main St., Dallas.
When: Jan. 14 from 5 to 7 p.m.
Cost: Free.
For more information: 503-623-2633.