DHS to livestream 'Daddy Long Legs'
DALLAS — Dallas High School will be showing a live stream of the musical "Daddy Long Legs," being performed live at the Davenport Theatre in New York City on Thursday night.
Ben Bailey, a DHS graduate, is a producer on the show in New York and will be in town for the live stream event and may answer questions about the show and the theater scene in New York following the performance.
The doors open at DHS' Bollman Auditorium, 1250 SE Holman Ave., Dallas, at 7:30 p.m. and the show begins at 8 p.m.
"Daddy Long Legs," a musical based on the novel of the same name, tells the story of Jerusha, "a witty and winsome young woman and her mysterious benefactor."
For more information or to sign up for the live stream go to: http://www.daddylonglegsmusical.com/livestream/.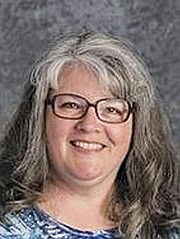 Hall named Distinguished Educator
DALLAS — Tammie Hall, an educational assistant at Oakdale Heights Elementary School, was named the November Distinguished Educator.
Jennifer Reinhardt, former special education teacher at Oakdale and David McCarty, parent of a student Tammie worked with, nominated her for the honor.
"She has tremendous skill in working with children with special needs and building relationships with them," Reinhardt and McCarty said of Hall.
Another colleague added: "She puts her heart and soul into those kids and is a huge part of the success of this program."
The Distinguished Educator Program recognizes "excellence in teaching and learning" in Dallas School District schools.
Comerford appointed to OSBA committee
PERRYDALE — Trina Comerford, who serves on the Perrydale School Board, has been appointed to the Oregon School Boards Association's Legislative Policy Committee (LPC).
The committee, which consists of the OSBA Board's voting members as well as 19 representatives from 14 regions statewide, meets periodically to establish OSBA's legislative priorities.
Also appointed are: Dean McAllister, Gorge Region (North Wasco County SD); Tim Carpenter, Central Region (Redmond SD); and Betsy Earls, Marion Region (Chemeketa Community College).
The appointments were made during a regular OSBA Board meeting Nov. 15 in Portland.
Willamette Promise awarded grant
SALEM — The Oregon Department of Education has announced that the Willamette Promise Consortium has received a $585,659 continuation grant for a collaborative program that will continue to expand the ways that high school students in Marion, Polk and Yamhill counties can earn college credit during high school.
The Willamette Promise offers credit awards which are proficiency based. High school administrators identify teachers with the skill and experience to deliver college-level content. Higher education faculty establish standards for knowledge gained and skill developed.
For more information: central.k12.or.us.