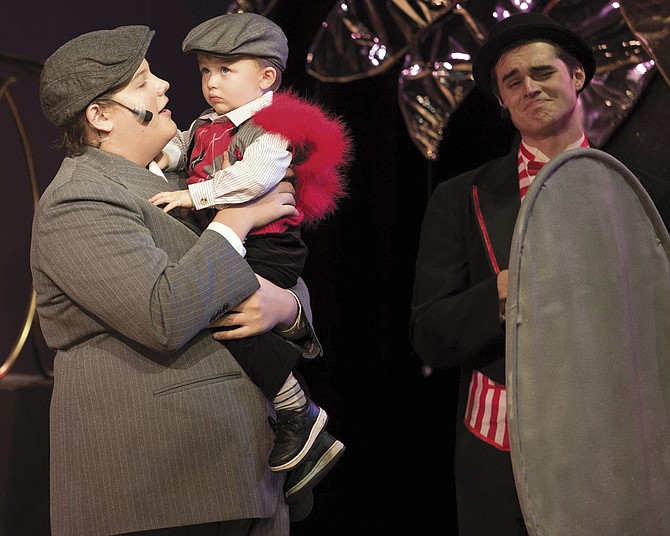 INDEPENDENCE — Anything's possible in the magical world of "Seussical the Musical," now showing at Central High School.
The musical features characters from multiple Dr. Seuss books, including Horton and the Whos, Mayzie the Amazing and Gertrude, the bird with a one-feathered tail.
Morals are sprinkled throughout the show like glitter, which may be one reason it was so difficult for Dylan Lewis, who plays Horton the Elephant, to name just one.
"I'm trying to describe it in my brain," he said. While his character says repeatedly, "A person's a person no matter how small," plenty of other lessons can be learned from Horton.
Horton is gullible and good-hearted, Lewis said.
"He's a nice guy," he said. "He ends up getting the girl in the end."
But he gets so focused on his responsibilities — caring for Whoville on a speck of dust and egg-sitting for Mayzie, played by Jadie Van Volkinburg — that he doesn't see the affection from his next-door neighbor, Gertrude, played by Hannah Boyack.
"Seussical" brings out the best in the young actors onstage, giving Boyack a chance to show off her brilliant comedic timing and allowing Jacob Eschette, who plays Cat in the Hat, a chance to have a lot of fun both onstage and off.
"Cat in the Hat is very mischievous," Eschette said. "When I think of a cat, I always think of self-interest before everything else. The cat is very self-interested. He enjoys telling a story and controlling everything."
Eschette, who has been frequently cast as the "bad guy" throughout his high school career, has enjoyed the break of playing a character that just wants to have fun.
"Literally, all the Cat does in the whole show is just have fun with everything he does," Eschette said.
Abby Miller, the Sour Kangaroo, is no stranger to the stage. She's been working with Central High School Performing Arts since fifth grade. This is her first speaking role, and she rocks the house.
"The Sour Kangaroo is very sassy, and she's not really open to anyone else's opinion," Miller said. "If she thinks something's not right, she will do whatever it takes to keep people on her side."
In fact, until the very end, she has the entire forest of birds and monkeys convinced Horton has lost his marbles.
"It works out pretty well until she gets proven wrong by the Whos," Miller said.
Still time
What: Central High School Performing Arts presents, "Seussical the Musical."
When: 7 p.m. Thursday, Friday and Saturday. Matinee at 2 p.m. on Saturday.
Where: CHS auditorium, 1500 Monmouth St., Independence.
Admission: $8 adults; $5 students; $3 special student pricing on Thursday.
For more information: chsperformingarts.org, or 503-606-2228.