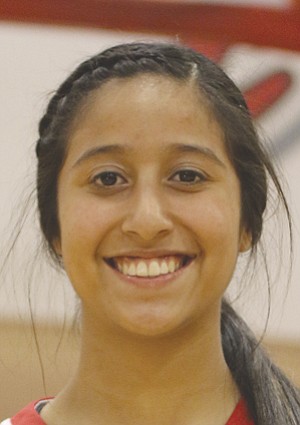 INDEPENDENCE — Among Central's girls basketball players there are essentially two groups — the seniors and everyone else.
The Panthers have four seniors, four freshmen and one sophomore.
Central's inexperience requires contributions from all four of the squad's freshmen. Among them, guard Elizabeth Chavez hopes to make the most of her chance to shine.
—
Chavez was never the outgoing kid. She wasn't afraid to hold a conversation, but she rarely started one.
"I wasn't one of those girls who went out and talked to people," she said.
An unexpected invitation to play basketball at a tournament in Salem marked the beginning of the end to Chavez's shyness.
"I think I was 8," Chavez said. "My friends asked me to play. It was my first time ever playing basketball. I don't remember how we did, but I actually really liked it."
Chavez began playing on organized teams. Her quickness made her a natural fit as a guard.
Once she learned the communication required on the court, playing basketball did more for her than just get into shape.
"I got a lot more vocal," Chavez said. "The shyness went away. I started talking to people a lot more."
Since arriving at Central, the freshman has already been busy, playing volleyball in the fall. She entered the three-day tryout for the basketball team cautiously optimistic.
"I was just hoping if I gave it my all, maybe I'd have a chance to be on varsity," Chavez said.
It turns out, she had more than a chance.
"She's a hard worker," Central coach Julie McDonald said. "She understands the game. She's a tough all-around player. She's quick and has a decent shot. She's very coachable. She's just overall a good athlete. She definitely earned her spot."
Chavez has been doing all she can to learn from McDonald and the Panthers' four seniors.
"The opportunity to play varsity is really exciting," Chavez said. "I try to get as much feedback as I can to improve myself as a player. It's been a lot of fun and exciting. I'm learning how to contribute a lot more, making sure I have confidence in myself that I can do things and not thinking my teammates can do it for me."
As the first player off the bench, Chavez will see significant minutes throughout the season, but McDonald has taken great care to ensure Chavez doesn't get overwhelmed.
"There's not a lot of pressure on her," McDonald said. "We've told her we only expect what she can produce. We don't want her to do too much or too little. Her play on the court speaks for itself."
Chavez scored 10 points against Centennial on Dec. 7 and four points on Monday while playing primarily as point guard.
"She's a quick learner," McDonald said. "It's a pleasure to coach someone who works hard out there, and she takes criticism as easily as a pat on the back."
As Chavez continues to carve out her role on the Panthers, she already considers the season a success on a personal level. The once shy player is simply grateful for the chance to play at all.
"I was really surprised (to make varsity)," Chavez said. "It made me shake a little because I was so happy. I just want to thank (coach) McDonald for this opportunity."