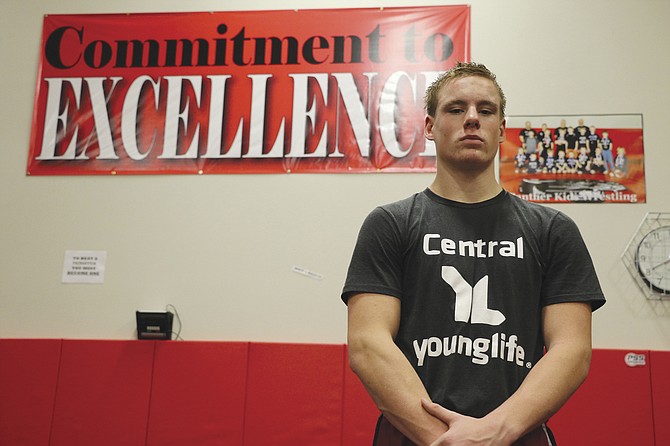 INDEPENDENCE — At the start of each wrestling season, Central junior Sam Crow takes note of one name.
"Each year I find an opponent I want to beat and I make it my goal to beat them," Crow said.
This season that name is a teammate — junior and defending Mid-Willamette Conference champion David Negrete.
"David beat me all of last year," Crow said. "This year, I'm starting to turn things around. I think we're pretty evenly matched."
Crow defeated Negrete in the finals of the 195-pound division at the Tillamook Tournament on Dec. 4 to open the 2015-16 season, but Crow knows that is only the beginning.
—
It was Crow's older brother, Jordan, who inspired Sam to take up wrestling, but not out of a desire to emulate his brother.
"I wanted to beat him," Crow said.
Crow received a quick reality check.
"I thought you could do whatever you wanted," Crow said. "I thought the best way to win was to just tackle the person and take him down."
He quickly learned there was much more to wrestling than that.
Sam and Jordan never wrestled in any official capacity, but three years ago, Sam did take down his brother — and has a chipped tooth to prove it.
"We were kind of messing around and it turned into an actual match," Crow said. "He hit my jaw and slammed it shut and I chipped a tooth, but I won."
It may have been his competitive fire that got him into wrestling, but the sport also had an unintended effect.
"I was a pretty small kid and I felt small," Crow said. "Now, out in the real world I feel more confident. If someone is bigger than me, I'm not intimidated anymore."
If Central's first tournament is any indication, Crow will be a state contender.

"Sam has worked very hard the last few years and I'm happy to see him have some success at the varsity level," Panthers coach Van Holstad said. "But it is just the start of the season and he needs to keep pushing himself to get better every day."
Crow will get another chance to show what he can do Friday at the Central Invitational where his focus will once again be on Negrete, but he also knows these are just the first steps to his ultimate goal — to be the only one in his weight class left standing at districts and state.
"I'm planning to win districts, go to state and hopefully place," Crow said. "I'm ready to keep conditioning and to push myself harder."