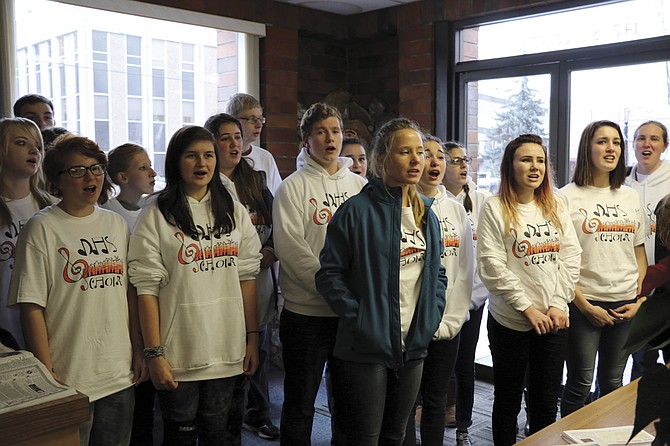 Veterans advocate to meet for coffee
Coffee and Conversation, sponsored by the American Disabled Veterans, will be at 10:15 a.m. on Monday at the Monmouth Senior Center, 180 S. Warren St.
Take an hour out of the day to have coffee and doughnuts, and get out of the house to visit with friends and meet new ones.
During this time, there is an advocate for veterans to offer help to those who need it and aren't sure how to get it.
For more information: 503-838-5678.
Holiday music jam at Dallas center
All musicians and holiday music lovers of all ages are welcome to join the Dallas Area Seniors in the spirit of the season for a holiday music jam at 6:30 p.m. on Thursday at the center, 955 SE Jefferson St.
Bring snacks to share at intermission. Festive attire is welcome. There will be a prize for the most festive sweater.
The event is free.
For more information, or to make a request: Jam host Michele Campione, 503-623-5055, or find Dallas Area Seniors on Facebook.
Featured artist shows photography
Scenic photographer Marilynn Teal is Dallas Public Library's featured artist for December. Her exhibit includes photographs taken in Oregon, Washington, Nevada, Alaska, and British Columbia. Teal's work includes still-life, portraits, animals, architecture and weddings.
She enjoys photographing old buildings, scenery, and bringing unique perspectives to photographing natural settings. She loves working with contrasting colors and textures, and especially enjoys gray on black tones and textures ,which show up so clearly in black and white photography.
Her work will be on display through December at the library, 950 Main St., Dallas.
For more information: 503-623-2633.
Old-time fiddlers to perform Saturday
The Old-Time Fiddlers will perform at the Dallas Civic Center at 1 p.m. on Saturday.
Everyone is welcome. Refreshments will be served. Admission is free.
For more information: Dallas Senior Center, 503-623-8554.
Dallas library to host teen party
The Dallas Public Library will host a Christmas party for teens at 5:30 p.m. on Friday at the library, 950 Main St.
A Christmas comedy classic movie, rated PG, will be shown. Other events include a scavenger hunt, gingerbread decorating, hot cocoa and pizza. The event is geared toward those in grades seven through 12.
For more information or for the name of the movie: 503-623-2633.
TLC holds free Christmas concert
A free concert will be held Sunday at Trinity Lutheran Church in Dallas. It will feature scripture readings; an adult choir; bell, children and youth choirs; along with Christmas carol singing.
The concert begins at 6:30 p.m. at the church, 320 SE Fir Villa Road, Dallas.
For more information: 503-623-2233.
M-I chamber mixer at Petals & Vines
Monmouth-Independence Chamber of Commerce and Visitors Center's December mixer will be Thursday at Petals & Vines, 410 Main St. E., Monmouth.
Join the occasion for wine, light refreshments and a festive holiday atmosphere. The mixer is from 5:30 to 7 p.m.
For more information or to register at www.micc-or.org
Clothes giveaway at NLNC Saturday
New Life Nazarene Church will host its annual Christmas Clothes Giveaway from 9 a.m. to 3 p.m. on Saturday at the Jinett's Closet, 341 NE Kings Valley Highway, Dallas, on the corner of Kings Valley Highway and Polk Station Road.
Clothes are available to all who need them. Donations of new and gently used toys and clothing of all sizes are accepted.
For more information: Jinett, 971-208-4249.