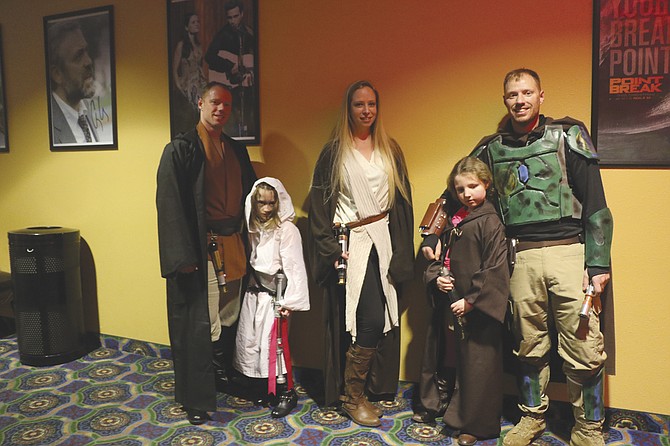 Essay contest is open to students
Polk County students in grades 9-12 are invited to enter the Fifth Annual Polk County Women for Agriculture's Constitutional essay contest.
This year's topic is to "name five things you learned when you read the Constitution, and write a paragraph about each."
Three prizes will be awarded — $300 for first, $200 for second and $100 for third. Each winner will also receive two books on the Constitution by Oregon author Mary Webster. Each student who enters will receive a pocket copy of the Constitution. Deadline for entry is Dec. 31.
Email entries to Arlene Kovash, kovasha@
gmail.com.
For complete list of rules: www.owaonline.org/polkcountychapter.html.
For more information: Arlene Kovash, 503-838-3512, or Carol Marx, camarx@aol.com; 503-362-622.
Church to offer free Christmas meals
St. Philips Church will offer a Christmas Day meal from noon to 2 p.m. for anyone in the community. The menu includes an oven baked ham, homemade stuffing, scalloped potatoes, green bean casserole, homemade rolls and cranberry sauce.
Apple or pumpkin pies are available for dessert. Home deliveries are available.
To order, contact Tara Arneson, 503-990-5632 or Sherry Maher, 503-507-0287. St. Philips Church is at 825 SW Mill St., Dallas.
National Guard to track Santa Claus
The Oregon Air National Guard will be on high alert on Christmas Eve as they monitor Santa Claus' annual flight.
The OAND will work with the United States Air Force and the North American Aerospace Defense Command to track his flight.
For the official Santa tracker, visit: www.norad.mil/AboutNORAD/NORADTracksSanta.aspx.
Santa inquiries can also be made by calling 1-877-446-6723.
Volunteers needed for Christmas Cheer
Volunteers are needed for Christmas Cheer at 6 a.m. Dec. 24 at LaCreole Middle School. Volunteers will help sort, shop and deliver food boxes to the community. Volunteers are also encouraged to bring canned goods.
Financial contributions can be made via check to Christmas Cheer, P.O. Box 661, Dallas, OR 97338.
For more information: Warren and Sue Lamb, 503-623-3585.
WVH to sell See's candy on Thursday
West Valley Hospital volunteers are selling See's candy now through Thursday inside the front lobby or Café West.
Proceeds from the fundraiser will go toward the scholarship fund benefitting Polk County high school seniors wishing to pursue a medical related field.
More like this story