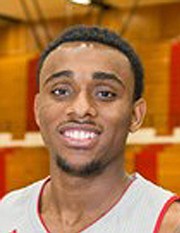 MONMOUTH — Western Oregon's men's basketball team cruised to an 85-50 win over Willamette on Sunday.
The victory improved the Wolves' record to 11-0 this season. Janvier Alaby scored 14 points to lead four players in double figures. Tanner Omlid had 11 points, eight rebounds and four steals.
Jordan Wiley had 11 points and Jordan Schriber added 10 points.
WOU will play its final nonconference game at Oregon in Eugene Tuesday at 6 p.m.
WOMEN'S BASKETBALL DROPS SIXTH-STRAIGHT: Western Oregon's women's basketball team lost to Humboldt State 65-56 on Saturday. Sydney Azorr scored 12 points to lead the Wolves (1-9 overall), while Emily Howey grabbed 13 rebounds. Western Oregon took the lead early in the fourth quarter after an 11-0 run to earn a 51-49 lead, but Humboldt State closed the game on a 16-5 run. "I saw a lot of positives tonight, especially in the second half," Wolves coach Holli Howard-Carpenter said. "There was a stretch that we shared the ball and got great looks at the basket and were able to take the lead." WOU hosts Simon Fraser on Dec. 31 at 3 p.m.