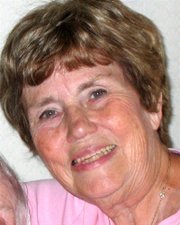 The beautiful Christmas carols have taken flight from the airwaves and it's somewhat bittersweet to say good-bye to music that helped transform the dark and rainy days in this wintry season. One moment, we're sharing good times and making happy memories, and it seems like in the blink of an eye, we're back to our usual routines like work and other responsibilities. Let's hope the true meaning of the Christmas season lingers in our hearts throughout the next several weeks, and we can look back and remember those special times.
—
With a brand-spanking new year just around the corner, it's time to think about making resolutions —something most of us do as a matter of habit — or having thoughts about making positive changes in ourselves and our lives. It seems like we all plan to lose 20 pounds and love our enemies and be one with nature and the world, at least for a couple of days or so. Then reality rushes in and most of the unrealistic expectations disappear as quickly as they arrived. Wouldn't be great if we could make some positive resolutions everyone can live with — and enjoy —in the coming year.
—
How about bundling up in warm clothes on these cold mornings and take a walk around the neighborhood? It's a great way to beat the winter doldrums and to something good for yourself. Better yet, talk a friend into walking with you and celebrate the day with a cup of coffee or hot chocolate at one of MI Town's restaurants. If you aren't physically able to get out and about, take the time to write a letter to a friend or family member that you haven't heard from in a long time. A handwritten letter brings a personal and special treat to a friend or family member, and can be taken out to be read again and again.
—
A friend shared a great New Year idea, and that's one resolution I am going to keep. Set aside a jar (with a lid) and put it, along with a pencil and pad, on a kitchen counter or a bedroom dresser where you know you will see it every day. When good things happen, write a note and put it in the jar. Next New Year's Eve, open the jar and read all the notes you've saved and revisit all the good and happy memories. I have a pretty, blue Ball canning jar that we'll use — the half-gallon size — as we begin 2016 with hope and optimism that it will be a good year.
—
Best wishes to everyone and have a safe and Happy New Year!