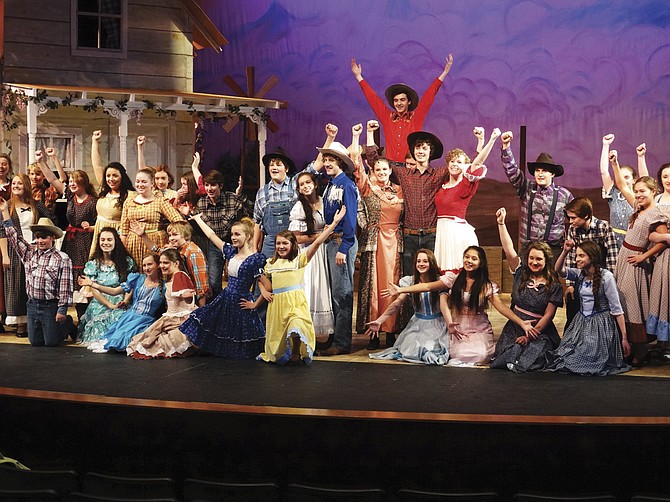 INDEPENDENCE — Hannah Boyack leaves her heart on the stage in Central High School's performance of "Oklahoma!" which opens Thursday night.
Boyack's character, Laurey Williams, is joined by a high-energy cast of 50, all singing, dancing — and occasionally fighting — in the 1906 Oklahoma Territory.
The result of so many doing so much onstage at the same time is an emotion-packed experience for the audience member, with laughs, gasps, surprises and maybe even some tears.
Performers also go through a ream of emotions during the production.
For Jacob Eschette, who plays Jud Fry, "Oklahoma!" has been exhausting.
"This is not my first time playing a villain," the CHS junior said. "But it is the first time playing a real villain."
His previous villain role was playing Gaston in Central's fall production of "Beauty and the Beast." Gaston is "cheesy and fake" compared to Jud, Eschette said.
"It's a real difference," he said. "It's tiring in every way — mentally, physically. He's so hateful and mean all the time."
Eschette said he doesn't let that hateful attitude follow him offstage, adding that he acts the part, and doesn't let the part act him.
The show has drama, with an intense fight between Jud and Curly, played by Sterling Sykes, resulting in a death. Eschette said "Oklahoma!" might not be appropriate for some young children if they're afraid of death.
"It's a good show, though, don't get me wrong," he said. "It's tiring, but I love every second of it or I wouldn't be here."
The musical also has love, with multiple couples trying to find their match-up, as evidenced through the opening of the second act at the box social.
At the social, the women are auctioned off via a picnic basket. Boyack said it is important that Curly wins her character's basket and has to work hard to outbid Jud, who is jealous.
When Boyack and Sykes finally end up together, one might think they had an offstage romance, but Boyack said it isn't so.
"It's acting," she said casually. "Even though we don't have a real romance, we find that thing in real life and use it."
In an intense scene between she and Eschette's character, Boyack said it was amazing to finally connect to her character's sense of anger and sadness.
"I just broke through," she said.
See the Show
What: "Oklahoma!" by Richard Rogers and Oscar Hammerstein, Central High School drama production.
When: Thursday through Saturday, 6:30 p.m.; Feb. 11-13, 6:30 p.m.; Feb. 14, a box social dinner will begin at 4:30 p.m. on Valentine's Day, with the play to follow at 6:30 p.m.
Where: Central High School, 1530 Monmouth St., Independence.
Admission: $8 general admission; $5 students; $20 per person for the box social dinner, which includes dinner, dessert and the show.
Of note: Concessions will be western themed, and include fresh baked cookies.
For more information: 503-838-0480; www.chsperformingarts.org.