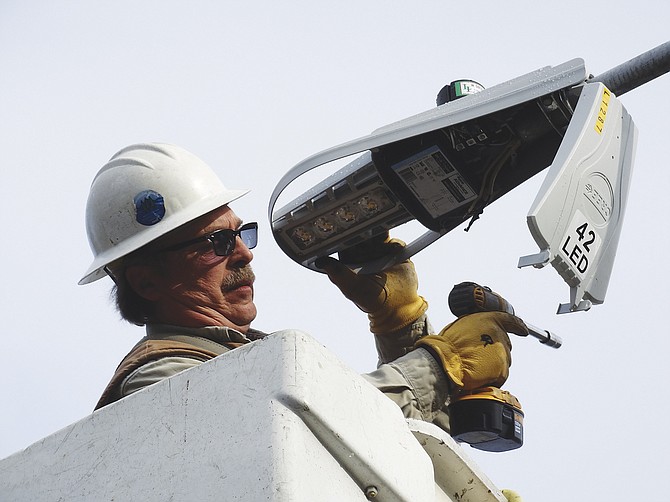 MONMOUTH — Nearly half of Monmouth's streetlights are brighter and clearer — and using 65 percent less energy than they did before.
Old high-pressure sodium (HPS) bulbs have been replaced with light-emitting diodes (LED), which require less energy to put off the same amount of light.
Chuck Thurman, Monmouth Power & Light superintendent, said the projected energy costs for the city to run the streetlights will be $32,000 a year, rather than $77,000 a year.
While Monmouth Power is paying for the equipment and manpower to make the switch, the city street fund pays for the electricity to keep the lights running, Thurman said.
"We're doing our part out in the real world," he said. "We're not just saying 'conserve, conserve, conserve.' We're putting our money where our mouth is."
The idea is to sustain Monmouth's overall energy consumption even through expansion, particularly new homes built in the Edward's Addition subdivision.
"If we can keep energy costs down, we don't buy more power from Bonneville Power," Thurman said. "Then as our community continues to add a house here and a house there, … we're … offsetting the new houses … by installing (LED) streetlights."
Once Thurman replaced the lights in his own home with LEDs, he noticed a huge difference in his power bills. It made sense to look at replacing bulbs in the city's streetlights.
The price of LED streetlights has gone down and the quality has gone up to make the transition financially plausible, Thurman said.
Russ Downer, a serviceman for Monmouth Power & Light, has been the main person to change out the 310 lights done so far. He said it takes him about 15 minutes to complete the transition from the old lights to the new.
Throughout the city, streetlights are of different wattages, ranging from 100 to 200, and are from a variety of manufacturers. In addition to lower overall energy costs, Downer said he will be happy to have consistency in the lights.
Having all the lights be one type will help cut down on labor and time, since workers will only have to be trained on how to switch and maintain one type of light, Thurman said.
"The other advantage is warehousing," he said. "I'm not stocking so many different styles of bulbs."
Since making the change, Thurman said he has received one positive comment, and no negative ones.