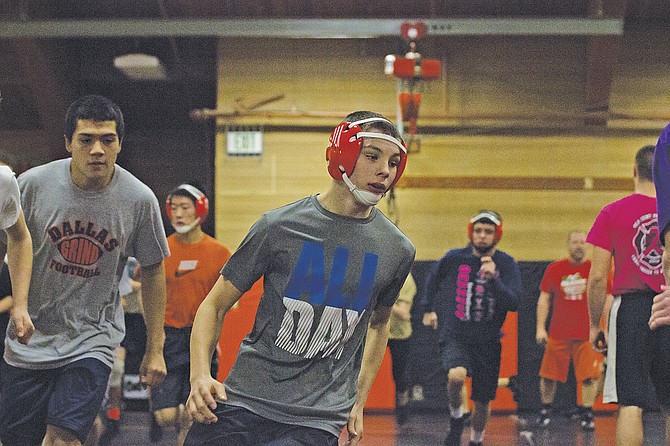 MONMOUTH — It was a moment players dream about.
Trailing Seattle Pacific 72-69 with less than seven seconds left in the game, the Western Oregon men's basketball team needed a 3-pointer to tie the game.
"That's the thing, we have a group of guys who have been through adversity before," junior Devon Alexander said. "We're comfortable with these kinds of situations and we stick together."
Alexander hit a buzzer-beater to send the Wolves into overtime.
"I knew I had to put it up, I did and by the grace of God, it went in," Alexander said.
The drama would continue, as WOU failed to get off a potential game-winning shot at the end of the first overtime.
In the second extra period, Western Oregon took control, earning a 94-84 win.
Redshirt junior Andy Avgi scored a career-high 33 points and Alexander and Julian Nichols added 20 and 18 points, respectively, as the Wolves improved to 18-3 overall and 10-1 in Great Northwest Athletic Conference play, giving WOU a two-game cushion atop the conference standings.
"Andy has the heart the size of a lion," WOU coach Brady Bergeson said. "He just wouldn't give up. He wouldn't relent and he wouldn't let go. He would not let himself back down."
It's been that kind of season for WOU.
As Western Oregon continues its historic start, one man has played a big role.
When Bergeson arrived at WOU in 2011, he didn't come in making grand promises. Instead, he preached patience.
"We just wanted to build," Bergeson said. "We did not put a timeline on anything. We wanted to get a group of young men that fit our system; guys we could coach and are the right character."
"I think it's been pretty average so far," Sickles said. "I go out and wrestle and whatever happens, happens."
Entering the season, Sickles didn't know how he would fare against new competition. But Sickles isn't a typical freshman. With nine years of wrestling experience under his belt, Sickles is thriving.
"I've learned how to have a good work ethic," Sickles said. "Austin Markee is a great coach. I've had good workout programs that have helped me get to where I am today. I have to get on offense and get the takedown. If you can get the first takedown, you usually win the match."
Now that he's tasted some success, Sickles isn't satisfied with original goals.
"(At the start) I was just hoping to maybe go to state," Sickles said. "I didn't have too many expectations. I'm thinking I can place at state now. I'm starting to get more confidence."
But Sickles isn't the only freshmen making his presence felt for the Dragons.
Earharts
Growing up, freshmen Treve Earhart always had his brother, Tanner, by his side. Watching Tanner's freshman year in 2014, Treve said he gained invaluable insight about high school wrestling.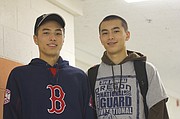 "I learned a lot from his matches," Treve Earhart said. "I learned how to get into better position and what he was doing to win his matches."
Treve Earhart has wrestled at 152 and 160 pounds for the Dragons, where he's won the Herrin Holiday Classic on Dec. 13.
"I'm really happy with what I've seen so far," Treve Earhart said. "I started wrestling just to see what I could do. Now, I want to keep getting better and better."
Tanner, who battled a head injury earlier this season, placed fourth at the Tournament of Champions on Jan. 24 and is looking to make a return trip to state.
"I've watched them put countless hours in all the sports in which they participate," Olliff said. "They've often had one another, so they've always had to rely on each other to get better."
Now, with the two brothers there to push each other in practice, the pair shares a special bond that helps them stay closer than they ever would be without wrestling.
"It's nice having someone there who I can talk to when I'm feeling down," Tanner Earhart said. "We can talk about whatever is on our mind because we know the other is going through the exact same thing."