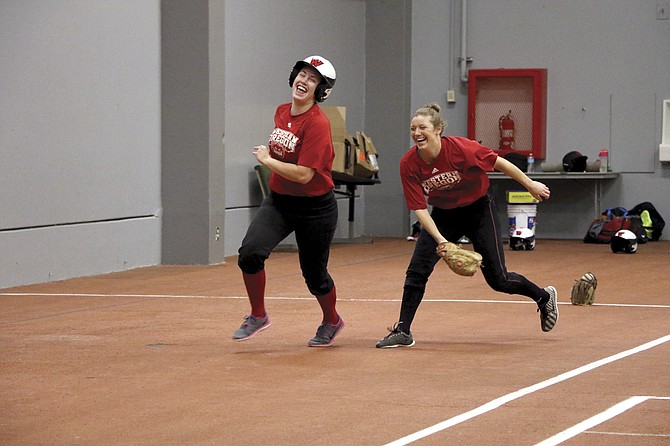 MONMOUTH — When Amanda Evola and Jourdan Williams stepped onto Western Oregon's softball field for the first time in 2012; they were immediately drawn to each other.
As the pair's friendship developed, they made a promise.
"When we first came in, we knew what our roles were and we stuck together," Williams said. "Ever since, we said we'd finish this together and here we are."
The Wolves' lone seniors hope for a storybook ending to their WOU careers as Western Oregon looks to defend its Great Northwest Athletic Conference title.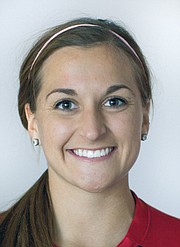 On the surface, WOU's lineup will have a different look than last year. The Wolves lost seven seniors, including pitcher Erika Bryll of Dallas, catcher Bridjet Box, infielders Ashlie Gardner and Melanie Pfeiffer, and outfielders Danielle Harcourt and Danielle Hannan, all of whom made at least 46 starts in 2014. Coupled with the loss of Raina Reece, WOU lost 156 of 318 runs scored.
WOU coach Lonny Sargent is experimenting with a variety of lineups, but sophomores Lexi Jennings, Destiny Kuehl and junior Walla Walla Community College transfer Brandy Knowles have each started at least four of the Wolves' first six games.
"I think our younger girls this year are more comfortable than last year," Williams said. "I think last year, our newer girls were more nervous and intimidated."
Sargent may be looking to solidify his lineup, but he has confidence that there won't be a drop off in quality.

"The big thing for us is to just see how we gel together as a group," Sargent said. "I want to see how we play defensively and offensively. We split up our seasons in preseason, regular season and the postseason, if we can make it that far. For our preseason, wins and losses aren't as important as our growth as a group."
Western Oregon is not without returning threats. Williams, the Wolves' most experienced returning pitcher, will see her role increase greatly after making only 11 appearances in the circle in 2014.
"I've worked on my drop ball," Williams said. "That's what I threw against Central Washington (during the GNAC Tournament) and I felt like I needed to work on that to be successful in conference."
Junior Stephanie Morgan and sophomore Sammi Cadwallader also return in the pitcher's circle. Newcomers Alyson Boytz, a junior, and Lizzet Dominquez, a freshman, also will contribute as the Wolves look to replace Bryll and Kelli Demianew, who combined for 24 wins last season.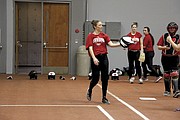 At the plate, Evola, (an outfielder) a first team all-GNAC selection in 2014, returns after batting .403 with eight home runs and 55 RBIs -- all team highs -- as does 2014 GNAC Freshman of the Year Kelsi Gardner (first/third baseman).
"(Kelsi) came in and would get frustrated with herself," Sargent said. "We want to try and get her to understand there are going to be some failures that you have. It's how you handle those failures that will be crucial to your success. Her mental state is evolving. You can see it in her confidence."
WOU was picked as co-favorites with Central Washington in the preseason GNAC coaches poll, and Evola and Williams are hoping to lead this group to back-to-back titles.
"Amanda just goes out there and works hard every day, that's how she likes to lead," Sargent said. "Jourdan, she leads by example too, but she's more vocal about it."
As Evola and Williams prepare to finish their journey at WOU together, both seniors are optimistic for the season and are ready to go out on top.
"If you have high expectations, it'll make us work harder to achieve that goal," Evola said. "Last year, the key word for us was finish. We showed that in the last game of the GNAC tournament. I think we're going to carry that with us this year and finish every game and every play."
Western Oregon Softball
Head coach: Lonny Sargent, fifth year (third with Western Oregon), 92-116.
2014 record:  34-23 overall, 18-6 Great Northwest Athletic Conference, first place.
Key returners (2014 stats):  Amanda Evola (OF, 8 home runs, 55 runs batted in); Jourdan Williams (P/3B, 3 HR, 30 RBI, 4.67 ERA); Ashlie Gardner (1B/3B, .384, 73 hits, 57 runs scored).
Key losses:  Melanie Pfeiffer (IF, .378, 76 hits); Bridjet Box (C, .365, 7 HR, 41 RBI); Eryka Brill (P, 41 strikeouts, 4.15 ERA); Kelli Demianew (2.09 ERA, 76 SO, 17 wins).
By the numbers:  156 — The number of runs scored Western Oregon lost from last year's regular starters. The Wolves scored 318 total runs during the 2014 campaign.