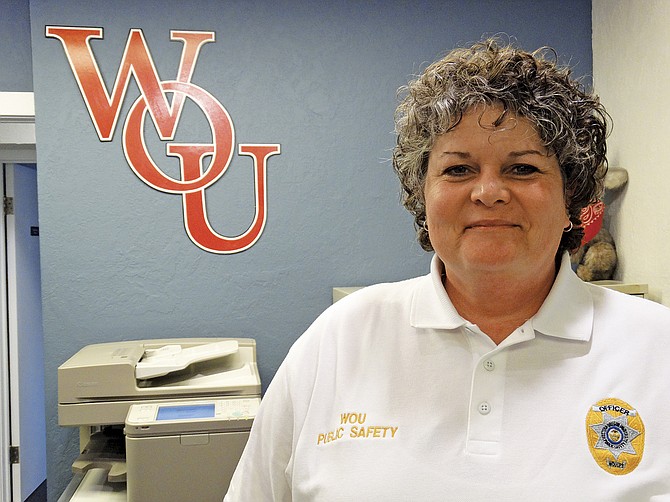 MONMOUTH — One thing Louisiana native Rebecca Chiles is sure of: Southern hospitality is not just in the south.
"I've been welcomed more warmly in this town and on this campus than I've been welcomed anywhere else," she said. "It's not a Southern hospitality thing; it's a people thing."
Chiles, 45, took the job of Western Oregon University's director of campus public safety on Feb. 2, making the move from Shreveport, La., to Monmouth.
She said it hasn't been a huge culture shock, noting that Monmouth's as-yet mild winter has been a nice change from Louisiana's typically extreme weather.
"People are the same wherever you go, I guess, but I think maybe (there's) a better quality of life," Chiles said about Monmouth. "It's more open, more accepting, a celebration of diversity more up here in the Pacific Northwest, more than in the Deep South area where I grew up."
Chiles has spent 18 years in campus security. She started working in the field after graduating from the University of Arkansas in Fayetteville with a degree in criminal justice.
"I loved it, and I've loved it ever since," Chiles said. "I love the (college) age group. I love the excitement that people that age have, the college student and the other things that come with it."
Her last job, at Louisiana State University in Shreveport, was more of a commuter college.
"The city (of Shreveport) is a lot bigger, around 200,000 people," Chiles said. But Western's enrollment is much larger than her last job, with only about 400 students living in campus apartments — no residence halls.
"So the town is smaller here, but your campus is larger, and your campus life, student life, is larger because you have a lot more students on campus."
As director of public safety, it is her job to oversee the safety and security of the campus and everybody on it, she said, including faculty, staff, students, visitors and property.
Chiles focuses on community policing, noting that public safety staff can't be patrolling everywhere at once.
"We need everybody to work together and see things and report things and be aware of things," she said. "This is our place, our environment. This is where you live, you work, you learn, you do all of those things. Let's do it together. Let's make it safe together."
Chiles hopes to get campus public safety more of a presence on social mediums like Twitter and Facebook to help keep the student body, faculty and staff updated quickly.
To contact Chiles: send an email to chilesr@wou.edu.