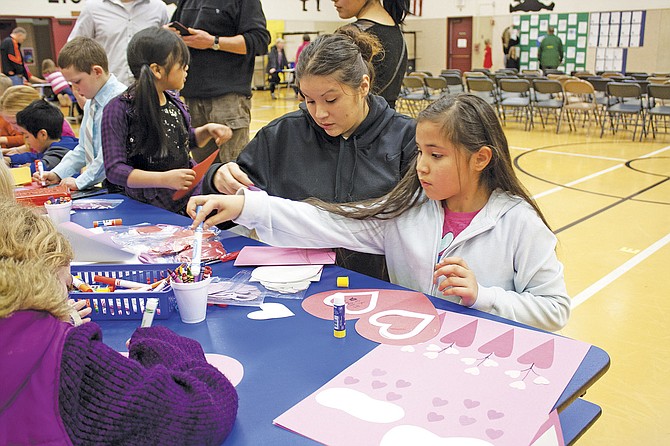 DALLAS — Leah Reyes loves pumpkins.
The first-grader loves to draw and write about pumpkins, and her trip to a pumpkin patch in October.
"I love to carve pumpkins. It's really fun," she said. "You can make monsters, skeletons, a face — or anything."
Needless to say, pumpkins were the subject of her writing project that hung on the wall in Lyle Elementary School's gym Thursday as part of "Celebration of Writing Night."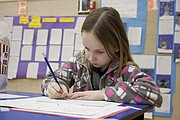 All students at the school had samples of their writing posted on the walls — and some even read their stories aloud — at the event, which is supposed to encourage students and families to make writing at home fun.
"We are trying to show parents activities they can do at home, to continue to reinforce what students are learning in class," said Elaine Dunbar, Lyle Title I instructor.
Writing night included several booths featuring writing games. One, popcorn writing, had students create stories based on random words they selected from a popcorn bag. Another gave youngsters a chance to write a Valentine's Day card.
Students were proud to show off their work to their parents.
Second-grader Sienna Pond — who read aloud her story about a recent, and "very short," haircut — bounded up to the wall where her class writing was on display. She read her story about how lions communicate to her mom, Jenn Pond, and little sister, Zoey.
Sienna said it was nerve-racking to read in front of an audience, but found a clever way to get through it.
"I just acted like there was nobody there," she said, smiling.
Jenn Pond said Sienna was excited to be selected.
"You came home and practiced," she said.
When asked what she likes about writing, Sienna said: "I love it. I like that it helps you learn."
Dunbar said this is the third year Lyle has held the writing event.
"Our school is really focusing on writing, so we decided we need a night to celebrate it," Dunbar said.
Lyle Principal Todd Baughman said it's encouraging to see the progress students make, from focusing on forming complete sentences and correct punctuation in kindergarten to writing full and descriptive stories in the older grades.
"It's really meaningful for school staff and families to see that progression," Baughman said.