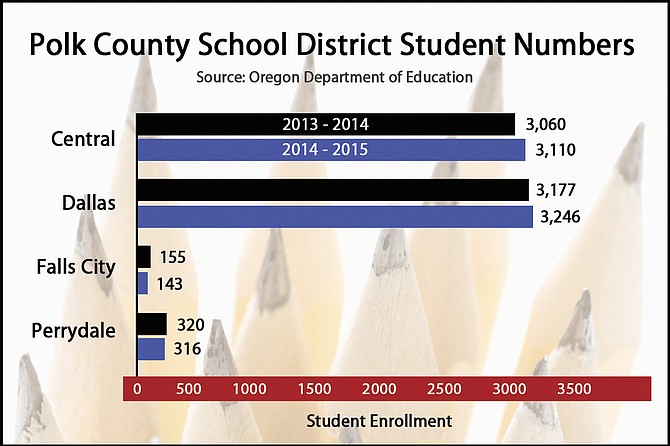 POLK COUNTY — Polk County's two largest school districts — excluding Salem-Keizer — saw increases in enrollment this year, according to the Oregon Department of Education's 2014-15 fall enrollment report.
Meanwhile, Falls City and Perrydale school districts saw small decreases in enrollment from 2013-14.
The report, which was released Feb. 4, uses enrollment tallies provided on the first school day in October.
According to the report, Central School District's enrollment increased to 3,110 in 2014-15 from 3,060 last year.
Dallas School District jumped from 3,177 in 2013-14 to 3,246 this fall.
The report includes a Dallas senior class tally of 417, but that includes all seniors at Dallas High School, Morrison Campus Alternative School, students enrolled in Extended Campus, and various other programs the district offers at the time.
Falls City's enrollment numbers declined by eight students, according to the fall snapshot, with 143 students in K-12, down from 155 in 2013-14. Of the 143, 46 are at the high school.
Perrydale's enrollment fell slightly from 320 last year to 316 this year. Perrydale High School enrollment is 93.
Statewide, enrollment grew .66 percent from 2013-14 and is at 570,857.
To see the report and those from prior years: www.ode.state.or.us/search/page/?=3225.