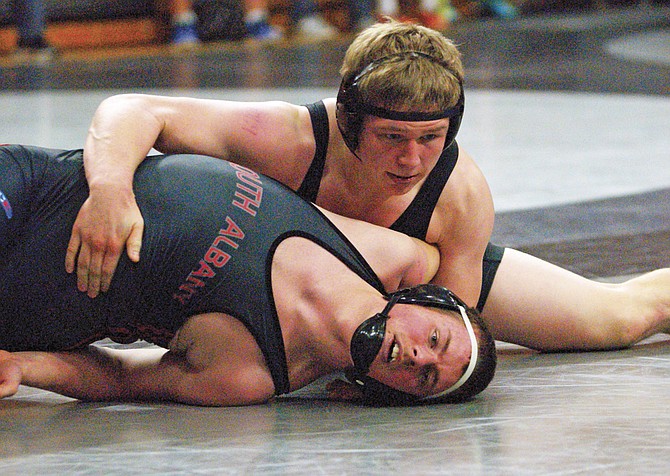 INDEPENDENCE — In the moments before a match, Central wrestler Tanner Swinehart is focused on one thing. But it's not his opponent.
"I always talk myself up," Swinehart said. "I never degrade myself before a match. I focus on what I do well and the things I am good at."
Swinehart has a lot to draw on.
After winning the Mid-Willamette Conference district title at 170 pounds on Feb. 14, Swinehart will enter the OSAA state wrestling tournament with a 43-0 record.
"It's my senior year, so it was all or nothing this year," Swinehart said.

Yet, Swinehart isn't focused on the matches he's won.

"(State) is what I'm looking forward to," he said. "All of the other tournaments don't really matter. This is the one that matters."
Swinehart has been a dominant force on the mat, earning 31 wins by pin. His ability to control his opponents and his strength and speed make him a difficult matchup for any opponent, Central coach Van Holstad said.
"His attacking style, attitude and work ethic are all in line and it has been evident so far this season," Holstad said. "As a result, he has a lot of confidence to execute his plan for each match."
Swinehart's success hasn't come out of nowhere. It's been the result of years of training and dedication, Holstad said. And through all his triumphs, his younger brother, Collin, a junior, has been there nearly every step of the way.
Collin qualified for state at 138 pounds.
"Tanner and Collin have become students of the sport," Holstad said. "They study it and have learned so much, and it has shown in their performances so far. They constantly push each other. Many times, it is just them doing morning workouts. They keep each other going."
The Swineharts won't be the only Central wrestlers competing at state.
Oscar Amezcua (160), David Negrete (182), Alberto Meza (195) and Marlon Tuipulotu (220) also earned their spots at state. Negrete and Meza also enter the state tournament coming off individual district championships.
"I honestly think we will do really well at state," Tanner Swinehart said. "All of the kids who are going to state deserve to be there. They're all hard workers on our team. I am confident in our ability and I think we're all going to do really well."

Pinning Down A Title
What: OSAA Class 5A State Wrestling Championships.
When: Friday, 8:30 a.m.; Saturday, 8:30 a.m. and 6 p.m.
Where: Veterans Memorial Coliseum, Portland.
Admission: Friday — adults, $15; students, $10 (good all day). Saturday — adults, $10; students, $8 (per session).