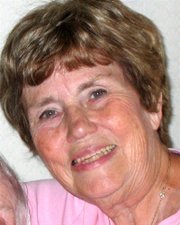 What a joy it is to begin almost every day with a spectacular sunrise — and the evening sunsets are almost as great.
Those extra minutes of brightness at the beginning and end of the day help us to realize that springtime will be here almost before we know it. Even with March just a few days away, though, it's good to keep in mind that winter's chill hasn't gone away for the season quite yet.
It's been great to hear the sounds of children playing in backyards and riding bikes through the neighborhood, and to see the pretty daffodils and violets raise their little faces toward the sunshine every morning. Although we would love to take a trip to Florida to see kids and grandkids, as well as our beloved Boston Red Sox in spring training, this is definitely not the winter to leave Oregon.
—
If you're in the mood for some early spring cleaning and have drawers and cupboards full of craft projects that never quite got started — much less finished — here's the answer to the question of what do you do with all that "stuff"?
The Friends of the Monmouth Senior Center is having a craft supply sale on March 14 from 9 a.m. until 3 p.m. For a table rental fee of $10, you can set up all those supplies to sell to someone who will really use them, and earn some money to buy something from somebody else that you will use. Table rental fees are going to benefit the Monmouth Senior Center's Building Expansion Fund.
Call the center at 503 838-5678 to reserve your table.
—
I stopped by the Monmouth Public Library to check out the new seed lending program and was so pleased to see how well it is going.
There is an abundance of seeds — both vegetable and flower — and charts showing the best planting times in our area. Our wonderful Willamette Valley has the best climate and soil — and it would be a shame to not have gardens of some type. Tomatoes can be grown in a bucket on an apartment ledge or in a sunny window. Lettuce and herbs and so many other vegetables are easily grown in the smallest of plots in the backyard, and you can have a fresh salad every day all summer long. It's a great project to do with kids and grandkids, too.
I didn't know how to make a little planter from old newspaper, so seeds can sprout on a window sill, but it's something new I learned at the library. Any adult can pick up five free seed packets every day the library is open.