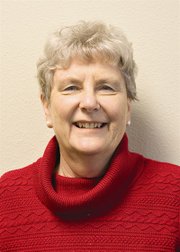 April Makalea will give a presentation on planning your garden Thursday at 7 p.m. in the Pedee Church basement. The Makaleas are real experts at gardening and anything else involving self-sufficient living, so it should be interesting. Everyone is welcome.
—
I will be hosting a class on very beginning quilting Wednesday (today) at 1 p.m. at the Pedee Women's Club, but we will also repeat and/or continue on March 18 if you miss this class.
—
Amanda Bennett, granddaughter of Pete and La-Verne Bennett, graduated last week from Leadership Training School at Sheppard Air Force Base in Wichita Falls, Texas, in preparation for her advancement to staff sergeant. She received the Academic Achievement Award at that time. Earlier in the week, she was awarded Outstanding Chapel Airman of the Year. Amanda is a chaplain's assistant.
—
The Cameron family celebrated Steve's birthday on Feb. 14 and grandson Noah's birthday on Feb. 16.
Steve and Audrey Cameron and son Clayton and his friend Jennifer Harmon met Audrey's sister, Susan Munson, in Albany for brunch on Saturday. Afterward, Steve, Audrey and Susan went to visit her husband, Bill, at the Mennonite Village and enjoyed a sing-along of some old songs with the residents there.
Daughter Stephanie Barth and granddaughter Ana came to the farm in the afternoon, bringing homemade berry pies for Steve.
Steve and Audrey joined the family and several neighbor kids at Clayton's home in Falls City on Feb. 16 to celebrate Noah's 9th birthday. Noah's Aunt Stephanie and cousin Ana came from Guthrie Road, and Uncle James, Aunt Jennifer and cousin Eliana came from Milwaukie to spend the day. Clayton's friend Jennifer made a special "volcano cake" for Noah.
After the party, all the kids and dads jumped on bikes to cross the bridge to the Falls City High School football field, where Noah's dad and his Uncle James helped him set off a rocket. The sky was a spectacular blue and the rocket soared high in the air, coming down via parachute. The kids spread out across the field to catch it, but it went so high that it crossed the river and came down near Clayton's house.