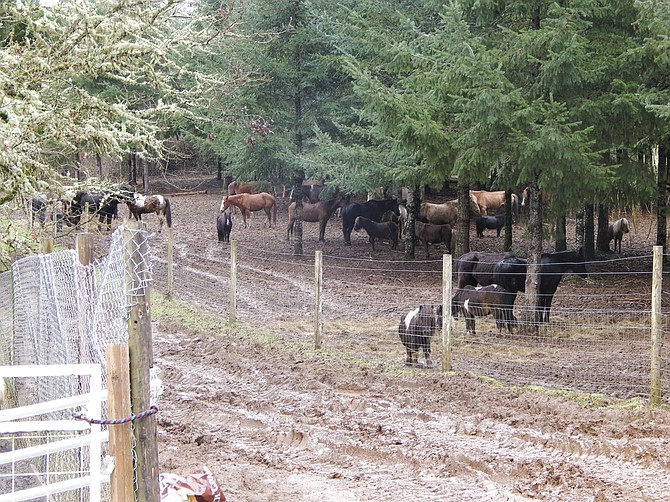 DALLAS — The long process of finding new homes for 38 abused and neglected horses and 20 goats began Tuesday.
Up until then, the animals that were seized on Feb. 13 from the 300 block of Pioneer Road near Dallas were still receiving veterinarian care, said Polk County Lt. Jeff Isham.
Animal owner Monica Foster, 41, of Dallas was charged with first-degree animal neglect. She was cited and released on Feb. 18.
Polk County deputies, a local veterinarian and the Polk County Sheriff's Mounted Posse determined 38 horses, 20 goats and more than a dozen fowl were in poor health, emaciated, malnourished and in immediate need of care, according to a Feb. 18 press release from the sheriff's department.
One dead horse also was found on the property.
Results from blood tests to determine the extent of the neglect were not complete as of press time.
"We're working with a horse rescue out of the Seattle area," he said. "They came down (Sunday) and took photos of each animal and touched the animals."
Once the animals have been categorized, the horse rescue group will prescreen applicants to make sure the animals aren't put from one bad situation into another, Isham said.
The 20 goats who were rescued will go through a similar process, he said.
The more than dozen fowl — geese, ducks and chickens — were quickly rehomed with help from Cross Creek Alpaca Rescue, Isham said. The organization also is helping find new homes for the goats.
Finding homes for horses is proving more complicated than it was for alpacas, Isham said, referring to the animal abuse case last year outside of Falls City involving 180 alpacas.
"They're not like alpacas," Isham said. "With alpacas, you can have the wool. With horses, you can ride them and they eat a lot of food, and you'll be stuck with them."
The Polk County Sherriff's Office applied for a grant from the American Society for Prevention of Cruelty to Animals to help pay for expenses. A representative from California happened to be in town and stopped by to talk about the case, Isham said.
"He wanted to see the property and the animals and report back to the grant people," he said.
The same property was involved in a different animal abuse case in May 2013 involving nine malnourished and dehydrated horses, but the two cases are not related and involved different people, Isham said.