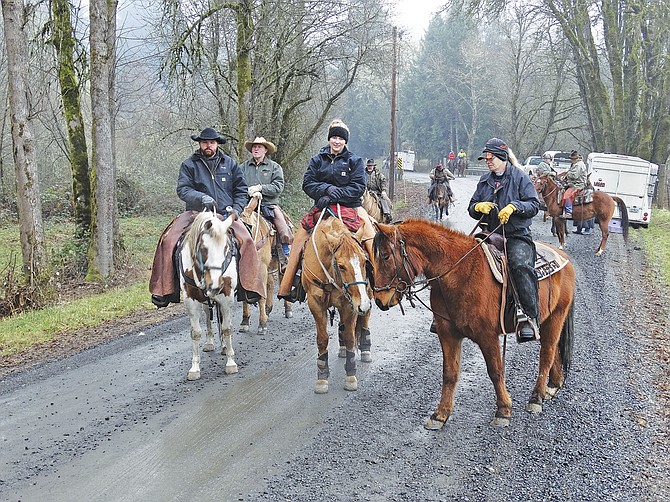 Cannon Art Gallery hosting exhibition
The Dan and Gail Cannon Gallery of Art at Western Oregon University will host an exhibit, "Fragments and Paper," beginning Wednesday (today) through Feb. 6.
An artists reception will be held Wednesday (today) from 4:30 to 6 p.m. An artists talk will be held Jan. 16 from noon to 1 p.m.
The exhibit features collaborative art projects by Bob Schlegel and Robert Tomlinson. Most of the pieces on display are three-dimensional.
The gallery is open Monday through Friday from 8 a.m. to 5 p.m.
For more information: 503-838-8607; email to boothp@wou.edu.
Reception planned for new art exhibit
Ash Creek Arts Center will host a free opening reception for its newest exhibit, "The Inhabited World," Thursday from 5 to 7 p.m.
The reception and display are at the Ash Creek Arts Center Gallery at MaMere's Bed & Breakfast, 212 Knox St. N., Monmouth.
"The Inhabited World" features ceramics by Falls City artist Dana Bergman, quilts by Linda Schreiner of La Grande, and beaded baskets from Indonesia courtesy of Rocksalt Imports of Independence.
The exhibit will be on display through Feb. 2.
For more information: 503-838-1811; email to ashcreekarts@gmail.com.
Meditation group meets Thursdays
Valley Zen Circle resumes weekly meditation and discussion every Thursday during the new year.
The group meets for meditation in the Soto Zen style at 5:30 p.m. in the basement of Christ's Church, 412 Clay St. W., Monmouth.
The first study focus is the Heart Sutra, one of the oldest and most widely known teachings in Buddhism.
For more information: Jill Washburn, 503-623-8600; online at http://valleyzen.-weebly.com/.
Next country dance slated on Saturday
Guthrie Park Community Center will host its next monthly country dance Saturday from 7 to 10 p.m.
All ages are welcome for an evening of dancing to the music of Cash & Company. Caller is Truman Price. Dances include old-time squares, big circles, longway sets and waltzes. No experience is necessary; all dances are taught.
Admission is $5 per person, and children 12 and under are free. A family rate of $15 for four or more people from the same immediate family is available.
Guthrie Park Community Center is located at 4320 Kings Valley Highway, south of Dallas.
For more information: Sally Clark, 503-623-0809; guthriepark@gmail.com; www.guthriepark.org.
Sunday breakfast planned at Grange
Buell Grange will host its monthly Second Sunday Community Breakfast on Jan. 11 from 8 to 11 a.m.
Cost is $6 per person, and the menu is scheduled to include your choice of pancakes, sausage and eggs; hash browns, sausage and eggs; or French toast and sausage. Meals include juice and coffee or tea.
The event is a fundraiser. Proceeds go toward the maintenance of the Buell Grange Hall, located at 5970 Mill Creek Road, just off Highway 22 northwest of Dallas.
For more information: 503-623-8462 or 503-843-4703.
Watershed council fundraiser on tap
Monmouth Burgerville will host a fundraiser for the Luckiamute Watershed Council on Jan. 14 from 5 to 8 p.m.
During that three-hour period, 10 percent of all sales will go toward supporting the work of the Luckiamute Watershed Council. There will also be an opportunity to participate in a raffle for prizes.
Burgerville is located at 615 Main St.
For more information: Luckiamute Watershed Council, 503-837-0237; Burgerville, 503-838-6096.
More like this story