VANCOUVER, Wash. — Facing stiff competition from Washington and Oregon schools, the Dallas High wrestling team placed 10th at the Pacific Coast Wrestling Championships on Friday and Saturday at Hudson's Bay High School.


"We took our team to a tough tournament," Dallas coach Tony Olliff said. "Several of our wrestlers had one to three Washington state champions in their brackets from various levels."
Nolan Miller finished second at 120 pounds, while Matthew Dindinger placed fourth at 138 pounds to lead the Dragons at the 33-school competition.
"Nolan Miller had a great tournament," Olliff said. "He got beat in the finals by a Washington kid who is pretty tough."
Miller's loss in the championship round was his first of the season, dropping his record to 26-1.
Dallas split its wrestlers into two teams over the weekend, as the Dragons placed third out of six schools at the Junction City Invitational on Saturday. Justin Spencer (160) and Jeff Dunagan (170) won their respective weight divisions to lead Dallas.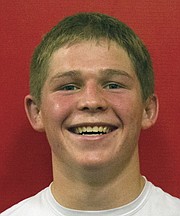 CENTRAL TAKES THIRD AT INVITATIONAL: The Central High wrestling team celebrated a new year with a strong showing at the Bob Bishop Invitational on Saturday. The Panthers placed third out of 21 teams. Tillamook won the team title. Tanner Swinehart (170 pou-nds) and Marlon Tuipulotu (285) won their respective weight classes, while Colin Swinehart (145) and Beto Meza (195) placed second. But it was their resiliency that caught coach Van Holstad's attention from wrestlers like Riley Olson (195), who battled back in the consolation brackets to earn points. "One of the things we needed to work on was wrestling in those consolation rounds and scoring," Holstad said. "Those are the rounds that are important in tournaments, and we had a lot of guys who wrestled real well in those."